×
remind me tomorrow
remind me next week
never remind me
Subscribe to the ANN Newsletter • Wake up every Sunday to a curated list of ANN's most interesting posts of the week.
read more
Interest

Mangaka Suggests Kill la Kill May Be Plagiarized

posted on by Eric Stimson
Manga artist Hiroyuki Ooshima accuses
Kill la Kill
of plagiarism
---
The recent anime Kill la Kill by Studio Trigger has won popularity for its violent interpretation of school politics and clothes-based combat system. But recent murmurs among the Japanese online fan community suggest that its concept may not be so unique after all.
Over a decade ago, Hiroyuki Ooshima and Daisuke Ihara teamed up to create Gakuen Noise ("Campus Noise"), a boarding school fighting manga published in Monthly Zero Sum, a magazine aimed at women. Ooshima has since moved on to work in the French comics industry, but fans have pointed out a number of similarities between Gakuen Noise and Kill la Kill. Gakuen Noise is set in a boarding school so large it functions almost like a town. Kill la Kill is set at a massive school that towers over a sprawling shantytown. Both schools are ruled by an authoritarian student council that tightly restricts its students' freedoms. Both star a hot-headed transfer student who bucks the rules and smears the student council — in Gakuen Noise, by calling the school's supposed freedom "pig's freedom." Dan Hanagata, the lead character in Gakuen Noise, seeks the truth behind a close friend's death and bears his red scarf as a memento. Ryuko Matoi of Kill la Kill is looking for her father's murderer and carries a red scissor blade as a memento. Both get into a series of fights with the student council.

Although Ooshima now lives in France, his friends alerted him to the controversy and sent him a Kill la Kill trailer. He was not pleased, to say the least. In a long blog post from December 31, he claimed to have "PTSD-like symptoms" until the day before. He admits that he has been inspired by other works as well (in particular, the manga of Sanpei Shirato), and claims that other authors have appropriated from his works, but says "all their works were full of originality and can't be compared to Kill la Kill, and I don't think of complaining about them." He also compares the controversy to the Kimba - Lion King controversy and claims that the similarities are even more glaring. He speculates that the animators thought they could get away with it because he lives in France, the original work is old and relatively obscure. He accuses the animators of being bereft in "literacy and morals" and wonders whether Kill la Kill can even be called a "work."
Gakuen's other creator, Daisuke Ihara, had a more mild reaction. His blog post has a more amused tone, and although he sees many similarities in Kill la Kill to his work, he says it is "not plagiarism. Plagiarism is tracing the pictures and completely mimicking the story development." He points out that Kill la Kill's story is different and seems to be heading in a different direction than his "like Gurren-Lagann did."
Ihara has more recently been involved with a manga named Akuto - ACT -, and it shows similarities to Kill la Kill as well. ACT involves transforming clothes, in this case bomber jackets, while Kill la Kill focuses more on school uniforms — although its heroine also wears a bomber jackets. ACT also features a protagonist seeking the truth behind his friend's death. Ihara also posted this drawing on his blog of a character from ACT named An Haritsuka, a transvestite boy:

... then compares it to the Kill la Kill character named Nui Harime: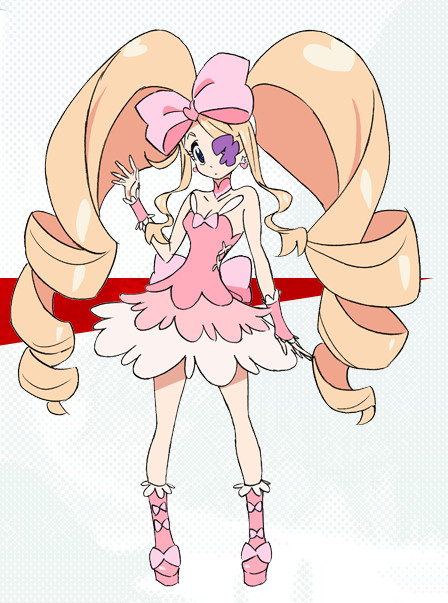 ... and says, "If as the Internet says, she turns out to be a he, I wonder if our manga is one of the old manga like Otoko-gumi and Blazing Transfer Student used as reference by the Kill la Kill production team." He goes on to request that no one get angry over it.
Gakuen Noise is now available to read in Japanese on J-Comi, so feel free to click through it and see how much it screams "Kill la Kill" to you!
[Via Manhattan, Rensai and Yaraon!; Images from J-Comi and Sai no Meki Portal]
---