Interest

Uta no Prince-sama Boys Take Over Animate Cafe

posted on by Eric Stimson
Limited-time menu, merchandise introduced
---
The bishōnen idol singers of the visual novel/anime Uta no Prince-sama - Maji Love 1000% are taking charge of two branches of Animate's cafe chain this weekend. Each main character has their own dish and drink item for the menu.
Otoya's cooking a meatball-and-cheese curry;
Masato's offering a Japanese-style noodle dish with pork and mushrooms;
Natsuki's serving chicken cream soup with milk bread;
Tokiya's bringing a healthy caprese with salmon and avocado sauce;
Ren has an Italian pizza with eggplant;
Syo presents an omelet with cheese sauce;
Cecil will offer a bowl of rice balls with tuna shavings;
Reiji suggests a bowl of fried chicken with a side of mayonnaise;
and Ranmaru will serve spicy beefsteak with a side of potato salad.
For dessert, Ai's whipping up a platter of cream puffs and dacquoise (a French almond, hazelnut and whipped cream cake), while Camus will prepare strawberry parfait with cocoa latte.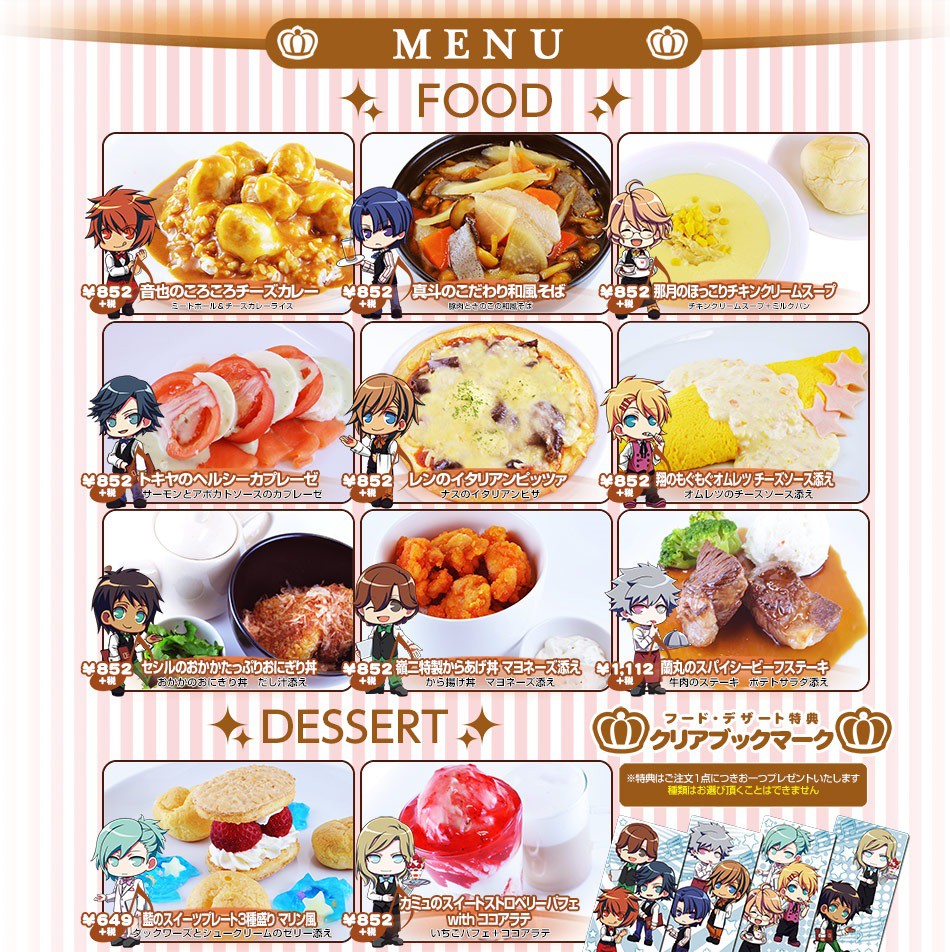 As for drinks,
Otoya's is a pomegranate soda with red jelly;
Masato's is a Curaçao soda with star-shaped pineapple;
Natsuki's is a lemon soda with orange jelly;
Tokiya's is an açaí soda with blueberries;
Ren's is orange juice and black tea with an edible rose;
Syo's is a strawberry yogurt drink with raspberries;
Cecil's is kiwi soda with sliced kiwi;
Reiji's is lime soda with lime;
Ranmaru's is Coke with non-alcoholic wine and dark cherries;
Ai's is grape Calpis (a milky Japanese soda) with nata de coco;
and Camus's combines grapefruit, Curaçao and blue jelly.

The cafe will also offer these exclusive chibi Uta no Prince Sama products. From top to bottom, they are clear files, badges and rusk cookies. Each order also comes with one of the free bookmarks seen above.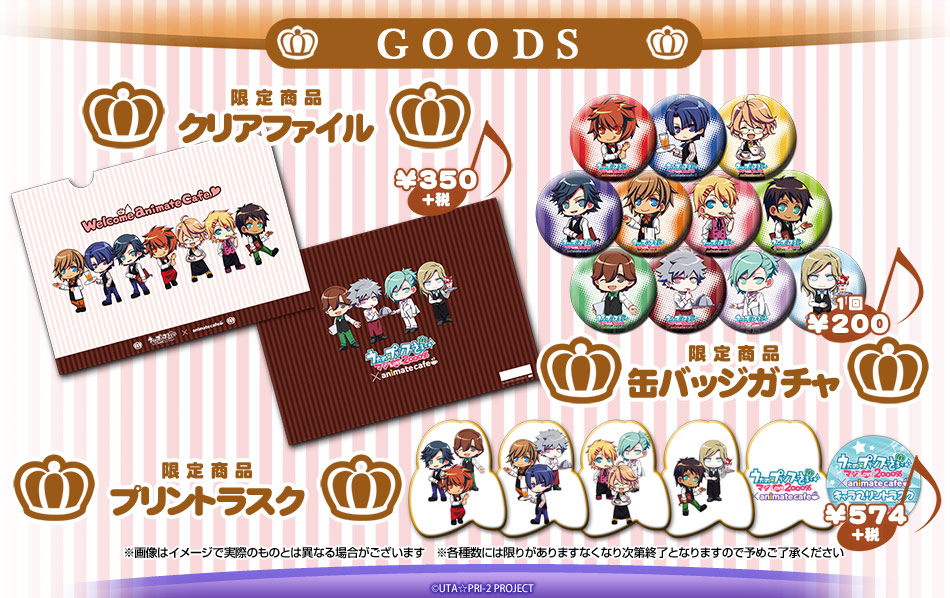 The promotion will last from May 17 to June 29 at the Animate cafes in Tokyo's Ikebukuro district and Osaka's Tennōji district. Entry is limited; you must be registered with Animate Cafe and enter a lottery here. Most of the food items cost ¥852 ($8.33); the drinks cost ¥463 ($4.53).
[Via Nijimen]
---