Interest

Rino Sashihara Triumphs Again in AKB48 Senbatsu Election

posted on by Eric Stimson
---
The 8th annual AKB48 Senbatsu (Selection) Election was held on June 18 in the Hard Off Eco Stadium in Niigata. For the second year in a row, Rino Sashihara of the spin-off group HKT48 won, having secured 243,011 votes.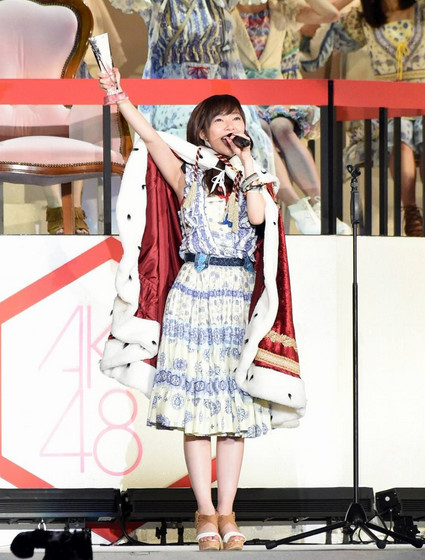 "I really, really, really thank you," Sashihara said to her fans. "I feel some sort of emotion about achieving a consecutive victory when Atchan [Atsuko Maeda] and Yūko [Ōshima] couldn't, but my happiness is heartfelt. Please somehow, somehow acknowledge me as #1. With the scandal, my workload increased, and it seemed like I was profiting from it. I've got plenty of skeletons in my closet. But now I feel like my bond with my fans is strong, just like the other members who made #1. It's a first place my fans did everything they could for. Please accept my congratulations somehow from your hearts."

Sashihara refers to a scandal involving an alleged boyfriend in 2008-09 that broke in 2012 and resulted in her transfer from AKB48 to HKT48. She had previously clinched the vote in 2013 and 2015, but lost the vote in 2014 to Mayu Watanabe. Watanabe was initially reported to be in the lead this time as well.
The AKB48 Senbatsu Election determines which member of AKB48 and its associated groups sings the next single (in this case, AKB48's 45th). The election first selects 80 members from a general pool of 272 candidates. The group with the most members in this class of 80 is designated the "majority party," and gets new performances and fan thank-you events. AKB48 won this honor, with nine members ranking in the top 80.
The top 10 members chosen (and their groups) are:
RINO SASHIHARA (HKT48-H; 243,011 votes)
MAYU WATANABE (AKB48-B; 175,613 votes)
JURINA MATSUI (SKE48-S; 112,341 votes)
Sayaka Yamamoto (NMB48-N; 110,411 votes)
Yuki Kashiwagi (AKB48-B and NGT48-N3; 92,110 votes)
Sakura Miyawaki (HKT48-K4 and AKB48-A; 78,279 votes)
Akari Suda (SKE48-E; 69,159 votes)
Haruka Shimazaki (AKB48-A; 68,126 votes)
Haruka Kodama (HKT48-H and AKB48-K; 60,591 votes)
Tomu Mutō (AKB48-K; 58,624 votes)
Sashihara recently discussed boy's-love on her NHK program. She has also starred in the film Muse no Kagami.
Sources: Mainichi Shimbun's Mantan Web, Oricon Style and AKB48WrapUp: Tommy Kono
---