Interest

Gantz Black Sphere Makes Appearance at Gantz: O Event

posted on by Amanda Ellard
---
FabCafe Tokyo held an event on August 3 called "GANTZ: O NIGHT ~ @hiroya_oku SHIBUYA Mission ~" for the 3DCG anime film GANTZ: O. Director Yasushi Kawamura and actress Asami Katsura, the motion capture performer for the film's heroine Anzu Yamasaki, attended the event. Hiroya Oku, original author of GANTZ, also joined via a digital broadcast from his workplace.
Making an even more special appearance though was Gantz itself, the mysterious black sphere directing missions throughout the Gantz series. Information and an animation of the Tanaka alien from the beginning of the series was projected on the screens panels that also mimicked the Gantz sphere's writing.

GANTZ: O will show in select theaters across Japan starting October 14. The film adapts the Osaka arc from the original manga using 3DCG technology for an exciting "full 3DCG" anime film. The manga previously inspired a television anime series animated by Gonzo and released by ADV Films and Funimation Entertainment in North America and two live-action films released by NEW PEOPLE Entertainment.

During the event, when asked what was most important with the 3DCG aspect this time around, Kawamura replied that "I tried to make the CG a little closer to realistic, but not too close to the realistic modeling of the Japanese face, to where it seemed a little plain and clarity gets impaired. Therefore, I carefully did realistic and deformed adjustments; I wonder if that is where our evaluation may be received." In response to this he also said, "[GANTZ: O's CG is] at a mid-way point between being similar to the original picture and to actual human beings. Since up until now there was no CG anime that resembled the original work's art, getting that resemblance made me happy."
Katsura commented regarding the duties of the motion capture performers in this film, "[During the acting in order to apply the CG] the motion capture devices record even one single finger, so even a fingertip's movement becomes CG. Because even habits, such as facial expressions or blinking, are also recorded, I was always nervous."

She also spoke of receiving the role of Anzu during her audition for the role of Reika, "Because my parents are also from Kansai, the same as Anzu-chan, I was able to synchronize with her. When I did the audition, I was asking myself, 'I have to remember Anzu's lines, I wonder whether I can do it'."
Director Kawamura also continued that "In the case of Reika, I honestly thought 'I wonder how [she could do it]' but, when asked to play Anzu, [Katsura] really got into it. 'This is the person,' I thought."
When Oku was watching the rush print, he recalled praising the motion-capture, saying that "Anzu's movements are so cute."
Oku added in regards to the creation of a 3DCG film from his manga, "even though I've liked previous 3DCG films, I think there are some parts I'm dissatisfied with. But, in GANTZ: O without mentioning things like the fears I have, I was surprised that the film met my ideals."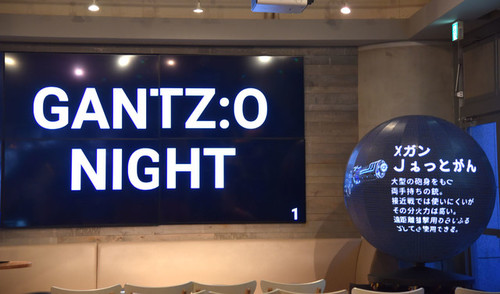 In regards to the difficulties in terms of making the movie, Kawamura explained that "because it's Katō [in the Osaka arc, Kei Kurono is not the main hero], I wondered what we should do. But, I think even people who haven't read the original arc will still enjoy the film."
Oku seemed to raise the audience's excitement when he stated, "I think this adaptation is one that has not been seen before." He added towards the end of the event that, "because, despite your anticipation, this work goes beyond your expectations, I want to say thank you and I look forward to it."

Again at FabCafe Tokyo, another event "GANTZ: TECH," which will include an original panel exhibition and a video screening, will open on August 7.
The official website of GANTZ:O revealed on July 29 a new teaser video and more cast for the film, which includes Yuuki Kaji as Kei Kurono and Daisuke Ono as Masaru Katō.
Source: Comic Natalie
---