Interest

Japanese Government Names Sword Art Online's Kirito as Cybersecurity Officer

posted on by Jennifer Sherman
The official website for Sword Art Online the Movie: Ordinal Scale announced on Friday that the Japanese government's National Center of Incident Readiness and Strategy for Cybersecurity (NISC) appointed Kirito as a cybersecurity officer. The character's appointment is part of a tie-up campaign between NISC and the anime film.

The tagline on the poster reads, "We will protect the Internet." The kanji characters for "Internet" in the tagline mean "world," but the text alongside the word reveals it should be read as "Internet."
Kirito and other characters will appear on posters and banners to promote the anime and Cybersecurity Awareness Month, which will run from February 1 to March 18. The film will open in Japan on February 18 in 150 theaters. The goal of Cybersecurity Awareness Month is to improve the knowledge of many people, and NISC will hold related events.

Nobuhiro Osawa, representative of the film's production committee and president of anime production company EGG FIRM, offered a message for the collaboration announcement. He said, "I think it's a great honor for Sword Art Online to be chosen for this cybersecurity public awareness campaign. From the start, Sword Art Online has been a work about futuristic virtual-reality games where in-game deaths become real deaths." Because of that, it is fitting that the anime will help to promote real-world cybersecurity awareness. Osawa also discussed dangers related to the Internet and online gaming and said, "I will be happy if [people] are interested in this campaign even a little through this [film]."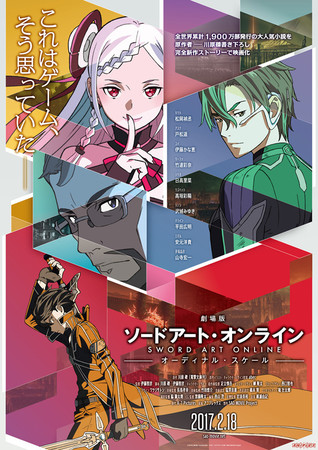 The film will open in United States theaters on March 9, 2017. Eleven Arts is distributing the film in Japanese with English subtitles. Prior to the wide release, Aniplex of America will host a premiere event in Hollywood, California on March 1.
The company describes the movie's story:
In 2022, the world of virtual reality was upended by the arrival of a new invention from a genius programmer, Akihiko Kayaba, called NerveGear. It was the first full-dive system, and with it, came endless possibilities to VRMMORPGs.
In 2026, a new machine called the Augma is developed to compete against the NerveGear and its successor, the Amusphere. A next-gen wearable device, the Augma doesn't have a full-dive function like its predecessors. Instead, it uses Augmented Reality (AR) to get players into the game. It is safe, user-friendly and lets users play while they are conscious, making it an instant hit on the market. The most popular game on the system is "Ordinal Scale" (aka: OS), an ARMMORPG developed exclusively for the Augma.
Asuna and the gang have already been playing OS for a while, by the time Kirito decides to join them. They're about to find out that Ordinal Scale isn't all fun and games...
Source: Animate Times
---