Interest

Find Your Ideal Idol from King of Prism with Official Quiz

posted on by Amanda Whalen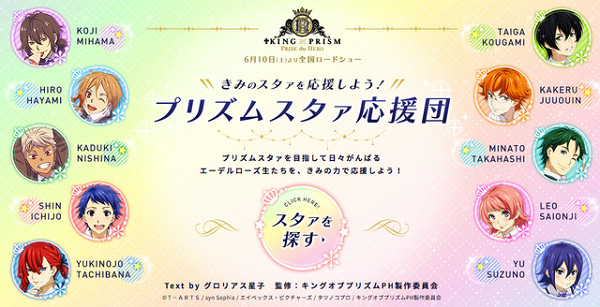 Fans of Pretty Rhythm's King of Prism franchise can now see which idol is best suited for them with an official quiz released to celebrate King of Prism's Twitter page reaching 50,000 followers.
The quiz can be taken at this website. Fans can enter their date of birth, and then their "ideal" idol will be shown, with an image and message from the character (Japanese only). A Twitter account is required to do the quiz.
Yu Suzuno:

Description:
Like me, you've got a good head on your shoulders. You're decisive, and the type of person that makes up their mind and then does something. People like you do well in competitions, so aim for number one in everything that you do! But, with that said, at your core you hate losing, so you're not always good at getting along with other people. Hehe, but I'm the same way I guess. People are always telling me that I'm not very agreeable.

But, being more laid-back is kinda hard. Even if it's something that's not important, trying hard to please other people or saying that I owe them is just a bit....Well, I can't explain it very well, but since it's you I'm sure you'll understand. But I know that you can be pretty easy-going, so I think you're way too good for a jerk like me. I don't want you to misunderstand me, because that's not a good feeling, so I'll try not to say blunt things to other people like, "Not particularly."

You're smart, so use all the knowledge and information you've got and do your best! If you do that you'll definitely succeed. I, "Zeus," will guarantee it!
The King of Prism franchise is getting a new anime film, King of Prism: PRIDE the HERO, which will open in theaters in Japan on July 10.
The previous film, KING OF PRISM by PrettyRhythm, premiered in January 2016, earning approximately 800 million yen (about US$7.8 million) and topping Blu-ray and DVD release charts.
Source: Nijimen
---