Interest

More Do You Like Your Mom? Light Novel Campaigns Ahead of Mother's Day

posted on by Eric Stimson
"Personalized" voice clips, an online RPG, and a mini-museum
---
Dachima Inaka's light novel Do You Like Your Mom? Her Normal Attack is Two Attacks at Full Power has sold very well and has inspired several unique promotional campaigns. With the second volume hitting store shelves on April 20 and Mother's Day approaching on May 14, its publisher, Fujimi Shobo, is unleashing more treats for readers yearning for more motherly love.
Fujimi Shobo's website now has a page of personalized voice clips from the book's eponymous mother, Mamako Ōsuki (played by Ai Kayano). There are only 50, but they seem "personalized" anyway because Mamako addresses you by common Japanese nicknames, which take the first syllable or two of a name and add "chan" or "kun." She tells you things like "It's all right. Mom knows best that you're trying your hardest!," "Do you want food? A bath?... Or me?," or "You seem sleepy. Want to sleep together with me?"
Since the light novel is about an RPG-style fantasy world, it seems natural for Do You Like Your Mom? to have its own RPG. Fujimi Shobo has provided that courtesy of game designer Wolf (The Great Hamburger War) on the website RPG Atsumaru.

Gamers, a big anime/manga/game store in Akihabara, has also set aside a "mini-museum" to the novel on its second floor. Customers can see illustrations in color and black-and-white of the characters by the novel's artist, Pochi Iida, and learn more about their clothes and accessories. The museum will stay up until April 30.

Gamers also invites Do You Like Your Mom? fans to prove how much they like their moms by writing a haiku about them for a contest. Results will be posted on the Gamers website on Mother's Day. Inaka will choose a winner, who will receive a signed illustration, and Gamers will choose a winner, who will receive a 500-yen ($4.58) gift card. The participation prize is "Mom-flavored" candy, given out at the store.
Fans can also participate in a garapon lottery, where a wooden wheel is turned to deposit little balls. The "C" Prize is one of two pictures of Mamako (seen below), the "B" Prize is a Mamako mousepad, and the "A" Prize is another illustration, but on a board and signed by Inaka (but drawn by Iida). To participate in the lottery, you have to buy one of the Do You Like Your Mom? novels.


"I've been thinking of wearing this a bit. What do you think? Would it look good on me?"
Do You Like Your Mom? is the story of Masato Ōsuki, who finds himself transported to a video game-like fantasy world, but with the surprise twist that his mother comes along too. She dotes on him and interferes with his relationships with girls, which may be bothersome, but she proves to be highly powerful and helpful in difficult situations.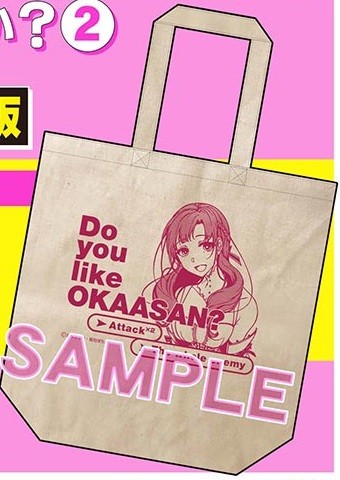 A Mamako bag available at Gamers
Sources: moca, Animate Times and Gamers
---