Interest

Chi to Hai no Joō Creator Asks Fans to Buy Manga to Prevent Cancellation

posted on by Jennifer Sherman
Sales of compiled books of Hajime Bako's Chi to Hai no Joō ("Queen of Blood and Ash," or Killing Vamp) manga have not lived up to expectations. As a result, Bako's editor apparently recently told him that if the first volume does not sell at least 1,000 more copies by a month before the third volume is slated to ship in November, the manga will be cancelled with the fourth volume. The desperate creator posted a plea to fans in Shogakukan's MangaOne app, which serializes the manga.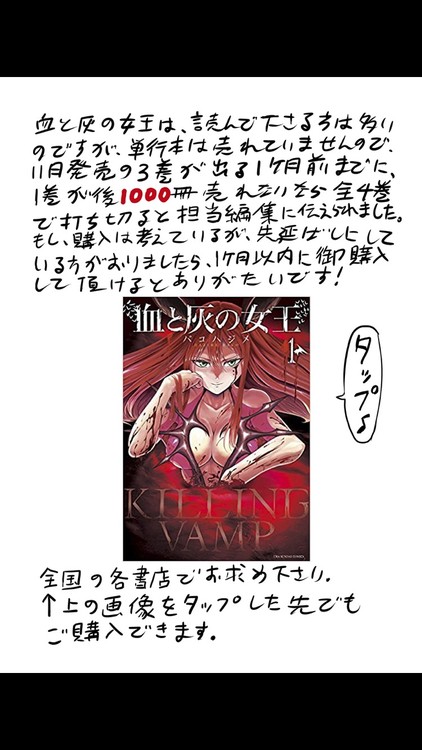 Bako asked fans who have been considering buying the manga to purchase the compiled volumes within the next month. He added that the series is available at bookstores throughout Japan and included a link in his message so fans might also purchase the volumes online.
While such scenarios are probably unfortunately common, it is rare for creators to reveal details of a manga's possible cancellation in such a frank manner. Many series suddenly end with an announcement only after publishers have made their final decisions.
Some online commenters said selling of a series should be an editor's job. Commenters also said it is unfortunate that digital sales are unlikely to count toward such a sales goal. On the other hand, some people pointed out that 1,000 is not that large of a number of copies to aim to sell nationwide in a month. Bako's plea may be enough to save the manga.
The vampire series launched in 2016, and Shogakukan's Ura Sunday magazine is also publishing the manga in print. The manga's 27th chapter debuted online on September 12, and the next chapter will debut on September 26. Shogakukan released the second compiled book volume on July 12.
[Via Yaraon!]
---