Interest

P.A. Works Produces League of Legends Video Game Ad

posted on by Kim Morrissy
---
Multiplayer online battle arena game League of Legends released an animated ad for their service on their YouTube channel on Thursday. The one-minute ad was produced at P.A. Works and directed by Shingo Yamashita (Birdy the Mighty: Decode ED, From the New World ED). The video also features lyrics and vocals by YouTuber AmaLee, who specializes in English covers of Japanese anime and video game songs.
League of Legends describes the ad as follows: "Inspired by the true story of Michelle, a university student and League of Legends player who joined a team and joined the fight. Season 2019 of League of Legends starts now! It's On."
The ad was initially uploaded on League of Legends' YouTube account as an unlisted video on January 18. It aired on American TV starting on January 21 during the commercial breaks on Adult Swim.
The full staff list for the ad is below:
Director, storyboard artist, editor, compositing, direction of parts set in the real world: Shingo Yamashita
Character designer and animation director: Emi Tamura
Music: Bandai Namco Arts
Vocals and Lyrics: AmaLee
Additional Mixing and Engineering: Shawn Christmas and Freddy van Hoof
Direction of parts set in the game world, compositing: Hiromitsu Seki
Key animation: Kaito Moki, Hiromitsu Seki, Tomoko Tsuji, Asami Hayakawa, Weilin Zhang, Gem, Till, 진아 배, Ryū Nakayama, Vincent Chansard, Eri Irei, Toru Iwazawa
2nd Key Animation: P.A.WORKS, Mizuki Furiya, Yusuke Inoue, Yoshihiro Kasahara, Kotomi Shimasaki, Asami Segawa, Kazuko Amino, Haruka Yamagata, Sayo Mizuno, Yousuke Hukumoto, Hiroki Adachi, Atsuya Iinuma, Miku Tanaka, Kyomi Matumiya, Haruna Shinonome, Eri Yonemoto
3D CGI: Yoshimasa Yamazaki (PA-X)
Color Design: Sayo Motegi
Paint Assistance: Katsue Inoue
Art Director: Toshie Honda
Sound Production: Magic Capsule
Sound Production Manager: Rie Tanaka
Production Assistance: Kento Tomita
Producers: Yoshihiro Watanabe, Mitsuhito Tsuji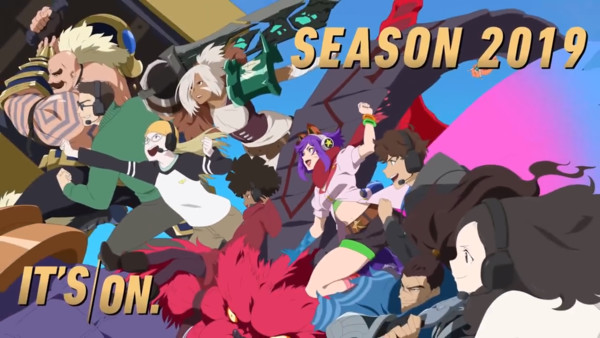 Producer Yoshihiro Watanabe told ANN, "When I was taking to [Shingo] Yamashita about this project, he said he always wants to explore working with new people. This project was a rare chance for him to work with [overseas people] since I was involved as an English-speaking producer. He expressed his strong desire to work with these great animators he saw recently."
League of Legends has previously released anime-style ads before, including one ad that uses the "You Say Run" track from Yuki Hayashi's original soundtrack for My Hero Academia. Another animated ad focusing on NBA player Gordon Hayward uses the song "Judgement" from kensuke ushio's soundtrack for DEVILMAN crybaby.
Source: Famitsu
---