×
remind me tomorrow
remind me next week
never remind me
Subscribe to the ANN Newsletter • Wake up every Sunday to a curated list of ANN's most interesting posts of the week.
read more
From Akiba to L.A. with AKB48
by Carlo Santos,

What a difference a year makes.

When

J-pop

idol group

AKB48

first performed on U.S. soil at New York Anime Festival 2009, they were a fresh, promising act that had just begun to take hold of the Japanese national consciousness. Since then, they have evolved into a pop-culture juggernaut, topping the music charts at levels not seen since a decade ago, appearing in TV shows and commercials almost constantly, gracing the covers of magazines and manga periodicals, and even becoming the subject of various

doujinshi

titles sold at

Comiket

.

Perhaps there's something to the concept of "Idols You Can Meet" after all. Where other pop groups wear their popularity like some kind of protective armor (

Anime Expo

2009 attendees will remember Morning Musume's obsessive-compulsive no-photo policy), the young women of AKB48 are all about reaching out to fans. At Anime Expo 2010, they held an exclusive meet-and-greet, two autograph sessions, a concert, and a focus panel—and were still so busy with other activities in Japan that they had to skip out of town by Day 3 of the convention.

It is in this one-on-one interview, however, that the group's charms become fully realized. It is one thing to enjoy the music, watch the videos, memorize the names, and see them perform live. But to meet them in person is to discover why an entire nation has fallen in love with the Akihabara's uncountable multitudes of song and dance.

On the day before the concert, I am joined by four of the 16 members that have been selected to perform at Anime Expo. Interestingly, they are not the frontliners that would normally be considered the public face of AKB48, but a quartet of up-and-comers seeking to break into the next tier of idoldom. These include Rie Kitahara (19) of Team B, Moeno Nito (17) of Team K, and Asuka Kuramochi (20) and

Rino Sashihara

(17) of Team A. Although they introduce themselves in the customary manner, I quickly build rapport with them by rattling off their nicknames—

Kitarie, Moeno, Mocchi, Sasshi.

Of these four, Kitahara was the only one to perform at New York; the other three are excited just to be making their first-ever trip to America. Naturally, there is a mild culture shock to be overcome. Nito says she imagined Los Angeles to be "a place with a lot of expensive, high-class buildings," yet the city still holds surprises for newcomers: Kuramochi notes that "in Japan, the electric power lines are mostly overhead, but you don't see that [in L.A.], and the natural scenery is nice."

Even the prospect of performing at the Nokia Theater carries a certain glitz and glamour that is unlike any venue in Japan. According to Sashihara, "[The four of us] only entered the group two years ago, so I'm very nervous and tense, but I'll do my best to perform on stage without any hitches." The fact that they came up through the AKB ranks together has built a camaraderie so strong that they can almost finish each other's sentences when they respond.

The length (or perhaps the shortness) of this tenure also affects how these members view AKB48's skyrocketing success. For the most part, they are humbled by it and consider themselves just ordinary folks on a rollercoaster ride. When asked how she feels about the group's ever-increasing sales figures, Kitahara says, "Well, I'm not among the original members who started five years ago, so I'm kind of afraid to answer this question. But since we've all been making an effort together, I hope to continue contributing to that success."

The group's increased popularity has also given them new ways to branch out in the entertainment world. Earlier in 2010, they starred in the TV drama

Majisuka Gakuen

, which superimposes the plot of the classic fighting manga

Crows

onto the setting of an all-girls' school. Naturally, the idea of playing a hard-edged delinquent is quite a stretch from the shiny-cute AKB image. In the words of Nito: "It was my first time acting, so I was a little nervous about successfully pulling off a

yanki

character. But when I met with fans at handshake events after that, they told me they saw a new side of me, so I was really happy to have done that kind of acting." Then again, it may not have been that much of a stretch for her—when asked which AKB member is the most

yanki

in real life, everyone immediately points at Nito. "You can ask any of the other members!" jokes Mocchi. "They'll tell you right away it's Moeno."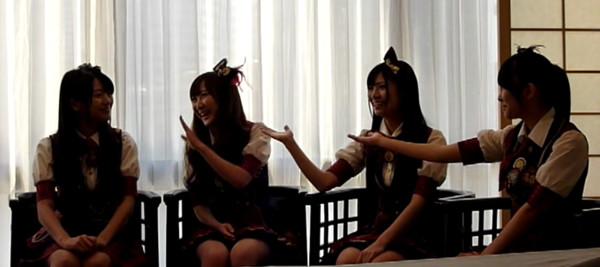 The real toughest delinquent in AKB48.
At this point the mood in the room has lightened considerably, and it's time for the best response of the day. Of the many sights to see in Los Angeles, Sashihara has a surprising choice on her mind:
"The supermarket!"
Everyone else in the room cracks up.
"Foreign supermarkets are so different from the ones in Japan! It's something I want to see."
As the interview winds down, the girls offer their thoughts on the excitement of meeting their international fanbase. For Kitahara, who has also been on the group's New York and Paris trips, she notes that Western tastes tend to run differently from the Japanese when it comes to picking favorites in the group. "Foreign fans prefer Sayaka-chan [
Sayaka Akimoto
] and Miichan [
Minami Minegishi
], but I would be very glad if I could get other fans to like me as well." And ultimately it is that performer-audience dynamic that AKB48 has done so well to cultivate—that one does not just come to their shows for some light entertainment, but to develop a connection with the members of the group.
Even the uninitiated are welcome, of course—and certainly there are many attendees who have come to Anime Expo with only the slimmest knowledge of AKB48. "It's a difficult question," says Moeno, when asked about how to win over newcomers. "But there are so many of us, and we all have different characteristics, positive traits among each individual ... so I'd encourage them to find a favorite member and become a fan."

On the red carpet at Opening Ceremonies.
The concert takes place as planned on Day 1, followed by the group's focus panel on Day 2. The question-and-answer session, held with eight of the members, is a disappointment: it ends up being dominated by attendees who are more interested in feeding their own egos than greeting the girls, and many of the questions get swallowed up by English-speaking manager Akihiro Makino due to the administrative subject matter. Will you collaborate with another group like you did with
Idoling!!!
in 2009? Ask the manager (there are no current plans). Would you consider traveling to other countries? Ask the manager (they'd wanted to go to Shanghai previously, but plans fell through). Have you thought about integrating traditional Japanese music into the repertoire? Ask the manager ... (and no, the group's music is based specifically on the golden age of 70's and 80's idols.)
An autograph session is held immediately after the panel, and for those lucky enough to get one, it is then that the magic of the AKB48 experience really comes alive. It does not come just from the musical pageantry, or the school uniform aesthetic, or even the enthusiasm of the fanbase. It is all about those one-on-one moments, getting to know the members not as mechanical singing and
Dancing Dolls
but as ordinary, down-to-earth girls with hearts and brains and personalities just like everyone else. During autographs, I run into my four interviewees from the other day and Sashihara prompts me to shoot off their nicknames like last time.
"Kitarie! Moeno! Mocchi! Sasshi!"
She lets out a raucous cheer, while the rest of them laugh and smile.
They say that Anime Expo is about meeting people and making friends. It looks like I just made four new ones.
(Special thanks to Sayaka Kondō of SDN48 for interpreting.)
---
discuss this in the forum (9 posts)
|