×
remind me tomorrow
remind me next week
never remind me
Subscribe to the ANN Newsletter • Wake up every Sunday to a curated list of ANN's most interesting posts of the week.
read more
Interview: Junko Takeuchi
by Crystalyn Hodgkins,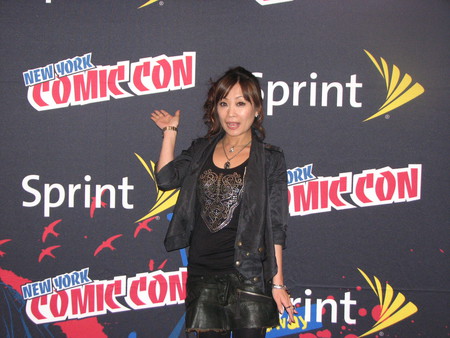 New York Comic Con hosted the North American debut of the film Naruto Shippūden the Movie: Bonds, and also hosted the voice actress for Naruto Uzumaki, Junko Takeuchi. Takeuchi has also voiced Gon in the original Hunter X Hunter television series, Endou Mamoru in the Inazuma Eleven franchise, and Mokuba Kaiba in Yu-Gi-Oh! Takeuchi sat down with ANN to discuss how she began voice acting, her role as Naruto, her tendency to play young male roles, and, of course, her love of cats.
ANN: How did you get into the voice acting business? Was it something you always wanted to do?
Takeuchi: Actually, I did not originally intend to become a voice actress. When I was little, I was doing more direct stage work, especially with classical ballet. And it was actually once I had started doing stage theater that I received the opportunity to do voiceover work as well, and that was my segue into voice acting.
You've been voicing Naruto for more than nine years now. How has your opinion of his character changed since you first began playing him?
To put it simply, nine years ago, I thought he was a loud-mouthed obnoxious brat. But now, I feel that he's evolved into a very reliable young man.
Naruto is a character who has a lot of stamina and is always full of energy. How have you managed to keep up that level of energy for each performance all these years?
It is tough.
Are there days where it's hard to play Naruto?
Yes, all the time.
Are there any memorable moments from you work in Naruto or from your voice acting career in general that you'd like to share?
This is a story from a recent recording. The voice actor who plays Guy, Masashi Ebara, he actually spilled his coffee right in the middle of recording. The whole room erupted in an uproar and it caused quite a scene. In fact, what makes it even funnier is that the very next week, the voice actor who plays Captain Yamato, Rikiya Koyama, actually spilled his tea at right about the same time. It's such a pleasure to be able to work with such mighty voice actors in the field.
Naruto never gives up no matter what adversity he faces. Do you think that this type of character with that kind of message is even more important now in Japan since the March 11 earthquake?
It's a bit of a different spin on that, but, despite the fact that Naruto won't give up on certain things, he's actually in reverse sacrificing other things in order not to give up on the things he doesn't give up on. For example, in terms of his feelings for Sasuke, and his belief that he can redeem Sasuke, he's sacrificed a lot of other things so that he can still pursue his quest to find and restore Sasuke.
I think what's the really important thing to remember about Naruto and what's really admirable, is that he has the courage to calmly choose what to give up on and what not to give up on. So I firmly believe that in the future, what's really going to come forward are those people who can calmly weigh various aspects of real life and be able to prioritize what's important. And that's not just in Japan, but all accross the world.
It's been four years since you recorded for Naruto Shippūden the Movie: Bonds, which premieres at New York Comic Con tomorrow, but what was your favorite part about working on that film?
I have to say what was particularly memorable about working on this film was that for the first time in a long time, Naruto got to face off with Sasuke. It's not necessarily just a battle scene, but I can't go into it more without revealing spoilers, but those who have watched it will know. I was very excited to work on this film because I was going to work with Sasuke.
You've voiced a lot of boy characters in shonen anime (Gon in Hunter X Hunter, Endou Mamoru in Inazuma Eleven, Mokuba Kaiba in Yu-Gi-Oh!, and Naruto). Did you find it difficult at first to play boy roles, or was it something that came naturally?
It wasn't natural for me at all! I mean, look at me, I'm a girl! I had no idea what it feels like to be a boy! But as I was doing various projects, I found a new approach. Instead of looking at it as playing a boy role or a girl role, I just looked at it as playing a role of a young person. After that, it became much more natural and easier for me.
Are there any voice actors, actresses or directors you'd like to work with again or that you haven't worked with before?
Every voice actor, voice actress and director that I've worked with, I'd love to work with any of them again in the future. Of course there are many in the field that I haven't worked with before that I'd love to work with, but I can't say there's any one person in particular though.
Which of your characters do you think you've related to the most?
I've done a whole lot of roles. It's a bit hard to narrow it down. Hmmm. I'm sorry, I just can't narrow it down.
In addition to anime, you have also dubbed roles in live-action shows and films. What differences have you encountered between these two types of performances?
In anime, I often have to shout out my attack moves. When I dub live-action films or TV shows, I'm dealing with "real-life people" with more real emotions, so there is a subtle and yet not-so-subtle difference between doing that and animated characters. If I had to draw an analogy, it would be like if I were doing theater, and it would be the difference between acting in a Shakespearean production as opposed to a modern production. In the end though, it is all acting.
On your blog and on the "Oh! Naruto Nippon" radio show you often talk about your cats, and you recently even played a cat-like character, Mimi from Hoshi o Ou Kodomo. Have you always been a cat person? What do you like about cats?
What's really appealing about cats to me is how they're so soft and fuzzy and almost squeezable and how soft their whiskers are, and just the sensation of being able to pet them and hold them. And yet I also love the fact that they're so cute and you reach out to start touching them and they're like "Oh, please, no!" I love that contrast. But I do like dogs. I used to have a dog. Actually I like anything that has fur. I like guinea pigs and birds as well, especially canaries. I am kind of embarrassed to admit this, because I am the voice of Naruto, but I hate amphibians like frogs. No frogs, no toads, no reptiles at all. No slugs either.
So you like soft and fluffy things?
Yes, exactly. As long as it's soft and fluffy, I'll love it!
What hobbies do you have? Do you watch anime or read manga?
I probably don't read as much manga as my fans, but of course, any series that I like such as Naruto, I do buy and read the manga. But as for my hobby, it's sleeping.
What would you like to say to your English-speaking fans?
I want to tell everyone that the Naruto world will continue to expand and grow, and I hope that each and every one of my fans, and those who are not even fans yet of Naruto, will continue to appreciate and support Naruto. And keep your eyes and ears open for more.
ANN would like to thank Junko Takeuchi and Viz Media for this interview opportunity, the New York Comic Con staff for arranging the interview, and a special thanks to Mari Morimoto for assisting with the translation.
---
discuss this in the forum (8 posts)
|