Interview: Monogatari Illustrator VOFAN
by Zac Bertschy & Theron Martin,

As the illustrator for Nisio Isin's smash Monogatari novel series, digital artist and photographer VOFAN has earned his reputation as a master at rendering light, creating spectacular images that bring the novel series to life, establishing a world-famous aesthetic that fans of the series praise as truly inspired. We had the opportunity to talk to VOFAN about his career at this year's Anime Central.
ANN: When did you realize you wanted to make your living as an illustrator?
VOFAN: I started drawing at 5 or 6 years old. In middle school I felt like I could be a mangaka, but I realized that I lacked the ability to do a long serialized work. I realized that I was better at doing single illustrations. So when I was 15 I felt that maybe I wanted to be an illustrator instead of a manga artist. When I was about 20 years old I started receiving work requests from a Taiwanese company. So I was taking gigs while still in college – half work and half college. By the time I graduated the amount of work I was receiving was pretty much that of a full-time illustrator, so after I graduated I went that route.
What did you study in college?
Architecture.
Did you ever use your studies much in your artistry?
Because of my studies in architecture, perceiving space and time is easy for me. So that's why in a lot of my work, I have a defined space that I can easily manipulate.

How did you come to develop your technique for rendering light in illustration?
I was first inspired by Makoto Shinkai. Shinkai's earliest work, Voices of a Distant Star, wasn't as refined in character art as his later works, but his backgrounds and use of light were really pretty. Around that time, bishoujo character illustration hardly used any of these lighting rendering techniques to make things more lively and magical, so in a lot of the bishoujo illustrations I drew I started to implement those lighting effects. I am also very much into cameras, so I wanted to add some camera angles and techniques into my composition. So that's how my style was finally established.
What sort of girls do you like to draw the most? Is there one monogatari character you prefer to draw, and if so, why?
I really like to draw long-haired girls, and I prefer to draw petite girls. So my favorite girls are Shinobu and Mayoi. Also Yostugi.
There's an intense amount of carefully-chosen perspective in your work. You pick complicated, abstract angles for your subjects. Do you model this out in 3D first, or are you drafting this entirely with pen & paper?
When I begin a work, I will use pen and paper to figure out the concept, and draft out the entire piece before I get into the real finished work. When I have the story, then I can figure out the angle that is needed for the illustration. And that's where I can implement my camera work, whether it's going to be wide-angle or telephoto.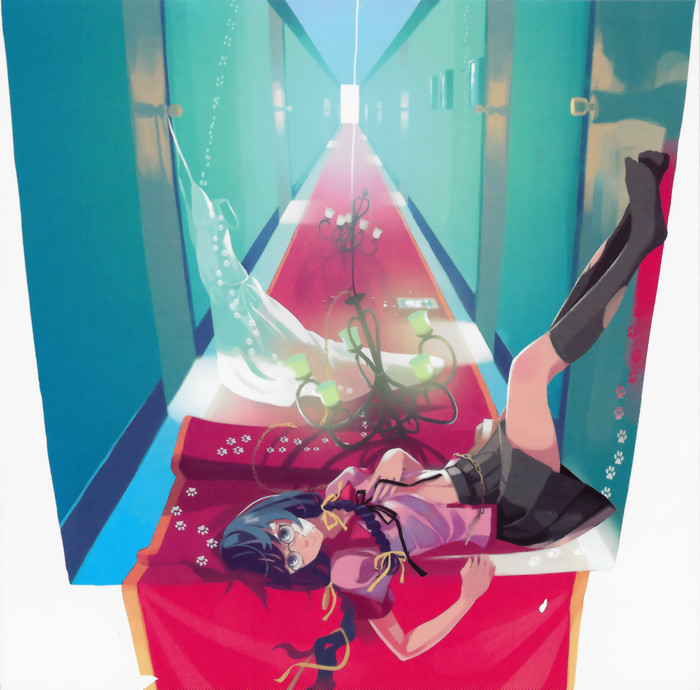 Do you have character designs in mind based only off descriptions, or do you render them after reading the entire novel manuscript?
Ms. Lin, my point of contact between Taiwan and Japan, provides me with a simplified draft so I can work from that. [VOFAN's translator Ms. Lin explains that she simplifies the Japanese text to a Chinese version with fewer characters, which is necessary because the turn-around time is usually very short.] After I read the simplified script then I will start working on the character concept, design, and final version. Generally speaking, Japan doesn't give too much guidance, so I have a lot of freedom.
Do you have your choice of colors to use?
If it's an illustration then I have total freedom. For characters, I stick to the novel description; if the colors are mentioned there I'll use them, but if they aren't then I usually have freedom to choose what I want.
Does your process change if you're working specifically in black-and-white as opposed to color?
The coloring and layers are usually richer and more dynamic and complicated. When I work on anything that is black-and-white with a color mindset, it actually interferes. I usually come up with 4-5 different greyscale variations, starting with lighter colors and going all the way down to the darkest spectrum, so I can have a comparison. Sometimes in my work, either intentionally or unintentionally, I will have a lot of white space or black space. In any color illustration, that usually won't happen. In black-and-white, it's more eye-popping due to the contrast."
Do you have a preferred camera, and what do you find is the best camera for lighting reference?
I like the Leica N9 model with the Leica lens. Because Leicas are all manual focus, in some places and situations it's actually harder to capture a photo. In places where I need auto-focus, I use a Sony A7 Mark 3, like for example at conventions when so many people are walking around.For Leica photos, the light effects are among the best. But I would not recommend that camera for any beginner. It's a very hard-to-use camera.
Do you plan to take a lot of pictures of cosplayers?
I did when I was at Sakura-con. However, I am not good at taking portrait shots. I like to do the 'ninja' shot, where people are totally unaware. It's more natural that way.
Do you feel you've perfected your technique, or is it always a work in progress?
I feel like a lot of the great ideas I have, I can't draw yet. Because of that, I feel I have great room for improvement.

Is there a single illustration you think is most representative of your work?
My favorite piece is the cover of Shinobumonogatari.
Who are some photographers you admire? Anyone whose work you think we should check out?
Rinko Kawaguchi. Her work greatly influenced me because it is very focused and delicate. It's a very special Japanese style of photography. I like her middle stage work, around 2001; an album called Utatane. Her work has a lot of her own personal and private perspective and deals with ordinary life. She is really good about turning a boring topic into something that's very emotionally moving.
Last question: Have you ever wanted to work in any medium other than illustration or photography? Any interest in filmmaking?
I am actually really interested in interior design. Maybe I should have studied that in college instead of architecture. Sometimes I actually receive cases for interior design photography work. For filmmaking, I actually like still images more than cinematography.
Our thanks to Anime Central, Vertical Inc. and VOFAN for the opportunity.
---
discuss this in the forum (10 posts)
|
this article has been modified since it was originally posted; see change history