News

Viz to Print REAL B-Ball Manga from Slam Dunk Creator

posted on by Egan Loo
2008 release for Inoue's artbooks, Real announced at NYC appearance
---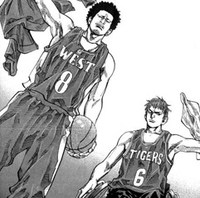 Viz Media is marking the special New York appearance of Slam Dunk manga creator Takehiko Inoue this week by announcing the July 2008 debut of Inoue's REAL wheelchair basketball manga. The gritty yet occasionally humorous manga focuses on three young men marred by tragic incidents: a high school dropout whose motorcycle accident paralyzed a female friend, a former sprinter who lost his right leg to bone cancer, and a onetime high-school basketball captain who is starting over after a collision with a garbage truck. With almost nothing else to live for, they devote themselves to the one thing they are good at, wheelchair basketball.
Inoue won the highest award at the 2001 Japan Media Arts Festival for this frank yet absorbing look at a different facet of basketball — the sport by which he secured his fame with the earlier Slam Dunk manga. The REAL manga runs at an irregular pace in Weekly Young Jump, and six volumes have been published since 1999. Inoue is also well-known among manga readers for his other current title, the Vagabond samurai manga. Viz is currently publishing Vagabond, and has scheduled Slam Dunk for September of 2008 (after a preview run in Shonen Jump magazine). Viz is also publishing Inoue's SUMI ("INK") black-and-white artbook and WATER watercolor artbook in 2008.
Inoue is appearing this week at Kinokuniya's new flagship bookstore, across the street from New York City's Bryant Park, to draw an exclusive mural on the store's second floor. Much of the second floor of the three-story store is devoted to manga and anime.
---