News

State of Restructured Tokyopop, ADV Manga Profiled

posted on by Egan Loo

The Newsarama comic news website has published the first of a three-part series of articles that summarize the reactions of staffers and world manga creators after Tokyopop's restructuring. In particular, Boys of Summer's Chuck Austen, Pantheon High's Paul Benjamin, East Coast Rising's Becky Cloonan, Psy-Comm's Tony Salvaggio, Earthlight's Stuart Moore, I Luv Halloween's Keith Giffen, Undertown's Jim Pascoe, Roadsong's Joanna Estep, The Abandoned's Ross Campbell, King City's Brandon Graham, War On Flesh's Tim Smith 3, Steady Beat's Rivkah, My Cat Loki's Bettina Kurkoski, and Poison Candy's David Hine discuss their past experiences with Tokyopop.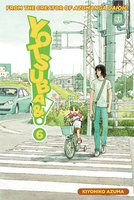 ADV Films sales account manager Chris Oarr tells Publishers Weekly magazine that his company's manga division has not been shut down, despite it not releasing any new volumes since February. Although there are neither new licenses to announce nor titles that ADV Manga is currently working on acquiring, it remains committed to reprinting books that are already in its catalogue. In particular, Oarr said that ADV Manga will try to ensure continuing availability of Yotsuba&!, which was recently nominated for an Eisner Award. However, just as in a earlier interview last month with Ain't It Cool News, he was not able to give a release date for the next volume (the sixth volume, pictured at left). "When will Yotsuba&! come out? We don't know, and we're not going to lie about it," says Oarr. The interview also revealed that ADV does not plan to participate in next month's Comic-Con International in San Diego, California.
---