News

Kyo no Gononi Manga Confirmed to Have Fall TV Anime

posted on by Egan Loo
---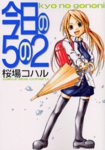 The Japanese publisher Kodansha has updated its web page about television and film projects that are linked to manga, and the page now confirms that Coharu Sakuraba's Kyo no Gononi (Kyō no 5 no 2 or Today in Class 5-2) manga is being adapted as a television anime series. The comedy manga follows the "lightly ecchi," everyday life of fifth grader Ryōta Satō, his childhood friend Chika Koizumi, and the rest of their school's Class 5-2. The manga was already adapted into a four-episode video series in 2006. The television series will premiere in Japan in the fall.

Kodansha's web page also confirmed that Ryō Ryūmon and Kōji Megumi's Bloody Monday suspense manga will be adapted into a television drama. In the story, Fujimaru Takagi, a high school sophomore and genius white-hat hacker, tries to clear his father's name by tracking down the "Bloody Monday" terrorist conspiracy. The key is a mysterious woman named Maya who is linked with a deadly Russian weapons-grade virus. The manga has been running in Weekly Shōnen Magazine since the spring of 2007. No release date has been confirmed, but the drama will air on Tokyo's TBS station and related affiliates.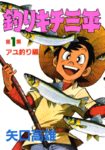 Takao Yaguchi's Tsurikichi Sampei (Fishing Enthusiast Sanpei) manga is being adapted into a live-action film next spring. The title character is a fishing maven who challenges even adults in his quest to be the best fisher. The manga began in Weekly Shōnen Magazine in 1973 and ran for a decade, and it was previously animated as a television series from 1980 to 1982. Toei has been trying to make a film for some time, but problems in adapting the story into life action have stymied previous attempts. An offer to make a film in Hollywood under the name "Crazy Fishing Boy" was even tendered, but it was dropped for the same reasons. Director Yojiro Takita, screenwriter Ryota Kosawa, and 13-year-old actor Kenta Suga are attached to the film project.

The television drama series based on Shūji Abe's Elite Yankee Saburow manga is also being adapted as a live-action film next spring. The two oldest Ōkochi brothers, Ichirow and Jirow, are infamous in high school as "elite yankee" (delinquents). Now, their weak-hearted younger brother, Saburow (Hideo Ishiguro), is entering high school with an undeserved and frequent tested reputation as an elite yankee. The original manga began in Weekly Young Magazine in 2000, and a sequel series is running in the magazine now. Yudai Yamaguchi is directing the film adaptation.
Source: Moon Phase, Tokyograph
---