×
remind me tomorrow
remind me next week
never remind me
Subscribe to the ANN Newsletter • Wake up every Sunday to a curated list of ANN's most interesting posts of the week.
read more
News

Amazon Lists New Manga from Aurora, Udon, Yen Press

posted on by Egan Loo
---
The Kuriousity blog
discovered
the following manga listings from
Aurora Publishing
(and its
Deux Press
boys-love
imprint),
Udon Entertainment
, and
Yen Press
on the
Amazon
online retailer's product listings. Amazon's listings do not neccessarily indicate definite release plans by these publishers.
Aurora Publishing

Tango (Tango no Otoko/
The Man of Tango
)
Tetsuzo Okadaya (
Ohzora Publishing Co.
)
May 13, 2009
Product Description: "Angie, though hailed as "The Man of Tango," had never truly felt the deep, fiery passion of Latin dance. That is, until he met Hiro, a man born from a Latin mother, who was under his Japanese grandfather's custody and now lives as a Japanese citizen. Now, a slow, seething desire begins to rock his body and soul! At first feeling a nostalgic familiarity toward the Latin dancer, Hiro finds himself drawn into the seductive beat of a Latin dance, opening his body and heart to the smoldering heat of his Tango partner."
Aurora Publishing (Deux Press)

Chocolate Surprise
(Mix Mix Chocolate)
Lily Hoshino
(Kohsai Shobō)
May 13, 2009
Product Description: "Having a sweet tooth was never so much fun! "Mix Mix Chocolate" - a game involving two guys, lots of girls, and lots of chocolates. And hidden amongst those chocolates is a single Garana chocolate. If any of the girls land the Garana, they get to have sex with the hottest guy in the class, Kakiuchi! If one of the guys get it, they get to pick anyone they want to have sex with. But what happens when one guy, Ogasawara, gets the lucky Garana and asks the other guy to have sex with him?!"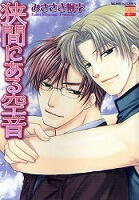 Idol Pleasures (
Hazama ni Aru Sorane
)
Fuhri Misasagi
(
Nihonbungeisha
)
May 13, 2009
Product Description: "Hisaya Amagi is an older, mature man with a perpetual smile on his face (though strained at times) who wants nothing more than to calmly cruise through life. That is, until his sister harasses him into becoming the manager of popular idol, Kouju Yagihashi. Though he tries his best to maintain his cool mask, he can't escape Kouju's advances and longing gaze. Little does Kouju know that Hisaya might just be a wolf in disguise!"

Love Machine
(Etowa)
Amayo Tsuge
(
Frontier Works
)
May 13, 2009
Product Description: "Anti-social people hater, Kokuyou is always going in and out of the hospital. Unable to stand it any longer, his friend Seiki gives him a 'replica'" a boy android named Shiro who can monitor his health and do chores. At first, Kokuyou can't hide his irritation toward the bumbling Shiro, but will Shiro's puppy-like devotion and dogged perseverance be able to win Kokuyou over in the end?"
Udon Entertainment

Ninja Baseball Kyuma!
(Kyūma!)
Shunshin Maeda
(
Poplar Publishing Co., Ltd.
)
May 13, 2009
Product Description: "Kyūma! and his dog Inui live in the mountains, where Kyūma! trains every day to become a great ninja. But when Kyūma! mistakes a baseball coach for his training master, the local baseball team ends up with its first ninja player! Can a ninja step up to the plate and learn how to
Play Ball
? Find out in Ninja Baseball Kyuma!"

The Big Adventures of Majoko
(Itazura Majoko no Daibōken)
Tomomi Mizuna
(Poplar Publishing Co., Ltd.)
May 13, 2009
Product Description: "While cleaning her room, a young girl named Nana finds a mysterious diary. As soon as she opens it, out pops Majoko, a rambunctious wizard girl from the Land of Magic! Together, these two girls explore a fantastic world full of magic spells, wondrous creatures, and endless surprises. Every day is a big adventure when Majoko is around!"
Yen Press

Tena on S-string
(S-Senjō no Tena)
Sesuna Mikabe
(
Houbunsha
)
August 4, 2009
---