News

Not so Daily Link of the Day: Anime Voice Actress Encourages Otaku as they Diet

posted on by Christopher Macdonald
---

Tanita Corporation, a Japanese manufacturer of precision scales, has started selling a dieting scale that offers encouragement to the user in the voice of anime voice actress Sakura Nogawa (Rozen Maiden, Strike Witches). In addition to the vocal encouragement offered in Nogawa's voice, the scale also features a hand-drawn picture of Nogawa, along with her signature.
The scale is limited to only twenty numbered units and sells for 90,000 yen (approx. US$978). The unit is available in two different sub-models, each with a different character voice (the voices are not those of existing anime characters). 10 units of each voice are available.
A video of the unit, which features Nogawa seeing the final unit for the first time, can be seen here (the scrolling comments are from Nico video subscribers). Audio samples of both voices (パターンA and パターンB) can be listened to on this product page.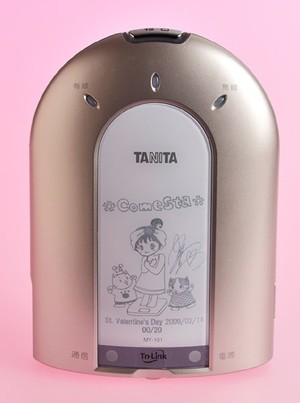 Included with the purchase of the unit is a free subscription to Tanita's 24-month Karada Karute weight loss program, which itself generally costs 28,800 yen (1200 yen per month). The program uses a body composition meter and a pedometer, combined with a special transmitter, to record and transmit the user's daily activity to a database via the Internet. Based on the transmitted data, the program will then offer the user tailored dietary advice, along with charts showing calorie intake, body-mass-index, and other information to help the user achieve their weight goals.
Source: Akiba Today
---