News

Funimation Adds Casshern Sins, Eden of the East (Update 2)

posted on by Egan Loo
Madhouse's
remake of Casshan sci-fi classic; latest from I.G, Stand Alone Complex director, Honey and Clover creator; Korean live-action film Daytime Drinking; Dragon Ball Z Dragon Boxes
---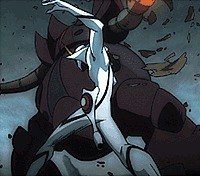 The North American anime distributor Funimation has announced at its Otakon panel on Saturday that it has licensed the new Casshern Sins and Eden of the East television anime series. Madhouse remade Tatsunoko's Shinzo Ningen Casshan science-fiction anime classic into a 2008-2009 series which just ended in March. The story follows a cyborg who rises against the robotic armies that have subjugated all of humanity. Streamline Pictures and ADV Films both released the 1993 Casshan: Robot Hunter animated video remake in North America, and Go Fish Pictures released Kazuaki Kiriya's 2004 live-action movie remake.

Eden of the East is the latest anime series from Production I.G, Ghost in the Shell: Stand Alone Complex director Kenji Kamiyama, and character designer Chika Umino (Honey and Clover). The anime series just ended last month with the announcement of two theatrical films. Funimation will release both the Casshern Sins and Eden of the East television anime series in 2010. The company does not know if its Eden of the East release will retain the "Falling Down" opening theme song from the British rock band Oasis.
Funimation has also announced that it will release a Korean live-action film called Daytime Drinking and the Dragon Ball Z "Dragon Boxes" — the same DVD box releases that Japan had produced from the original masters.
Update: More background information added.
Update 2: More release information added.
---