News

18-m Tetsujin 28/Gigantor Statue's Head Attached

posted on by Egan Loo
---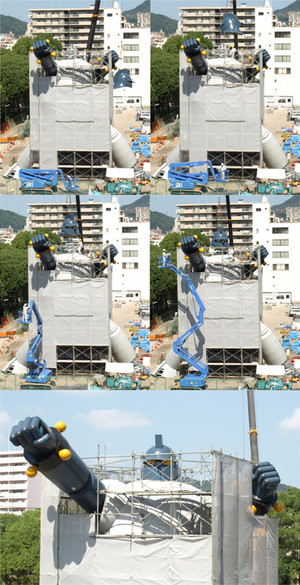 Not-So-Daily Link of the Day: A crane has attached the head of the "life-size," 18-meter-tall (59-foot-tall) statue of Mitsuteru Yokoyama's Tetsujin 28-go (Ironman 28 or Gigantor) to its body in Kobe, Japan on Monday morning. The head alone measures 2.5 meters (8.2 feet) in diameter and weighs 0.9 tons (2,000 pounds), or about the size and weight of a small subcompact car. Since the 50-ton statue is not "standing" straight up, it is actually 15.3 meters (50.2 feet) high.
The Kobe Tetsujin Project's statue is intended as a symbol of the city's revival after the 1995 Kobe Earthquake. It is being build at Wakamatsu Park in Nagata Ward, which was the ward hardest hit by the temblor. The statue also celebrates the life of one of Kobe's most well-known native sons; Yokoyama not only created the Tetsujin 28 manga and anime, but also Giant Robo and Sally the Witch.
The statue was scheduled to be constructed in August, but its completion is now planned for the end of September with a ceremony on October 4. (The initial plans called for a spring 2008 opening.) The project raised 135 million yen (US$1.40 million), partly through the city's investment of 45 million yen (US$470,000) and through sales of "Tetsujin Curry." As part of the city's commemoration, five streetlights shaped like Tetsujin 28's head have been installed at a nearby walkway. True to their inspiration, the 41-centimeter-wide (16-inch), 49-centimeter-tall (19-inch) streetlight heads have light-up eyes.
In related news, crew members have taken the final photographs of the 18-meter-tall, "life-size" statue of the Gundam anime robot before continuing with its disassembly on Friday. Unlike the Tetsujin 28 statue, the Gundam statue was intended as a temporary outdoor display. The planners acknowledged that the fate of the statue after disassembly is "undetermined."
Sources: Asahi Shimbun, Yomiuri Shimbun, Kobe Shimbun, Alt Japan
Image © Hikari Productions/Kobe Tetsujin Project 2009
---