News

18-Meter Gundam to Rise at Tokyo's Odaiba Island in July (Updated)

posted on by Egan Loo
"Life-size" statue to stand in island's Shiokaze Park for two months
---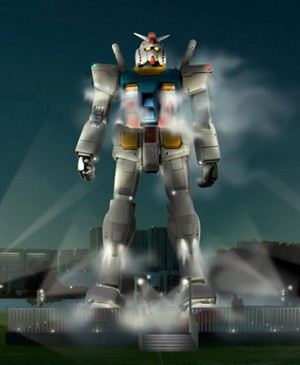 Not-So-Daily Link of the Day: The official website for the 30th anniversary of Sunrise's Gundam robot anime franchise has announced on Wednesday that an 18-meter-tall (59-foot-tall), "life-size" statue of the title robot will be built at Tokyo's artificial Odaiba island this July. The website proclaims that as part of the "Mobile Suit Gundam 30th Anniversary Project," "Gundam will rise from the ground." The "Real na Gundam" statue of the RX-78-2 Gundam model from the first anime series (1979) will be built at Odaiba's Shiokaze Park at the beginning of July.
The statue will be free for viewing, but it will only stay up for two months. It will be built with fiberglass-reinforced plastic over a steel frame so it can be disassembled later. The head unit will move and the body will have 50 points that will emit light. Mist can shoot forth from 14 locations on the body. The park is just four trains stops from Tokyo Big Sight, the home of the Comic Market dōjinshi convention and the Gundam Big Expo convention that will be held from August 21 to August 23. Bandai Namco Group is still determining what to do with the statue after its allotted two months in the park are over.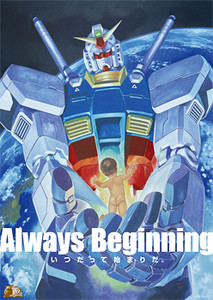 Until now, the largest official Gundam replica in Japan was a 2/3-scale LM312V04 Victory Gundam built at 10 meters (33 feet) tall during the 1990s. A fan made a 1/3-scale MSZ-006 Zeta Gundam statue in Japan that stands seven meters (23 feet) tall.
Bandai Entertainment displayed a life-size head of the Gundam F91 robot from the 1991 film of the same name at Comic-Con International and later in San Francisco's Metreon entertainment center. Bandai Entertainment eventually auctioned that head on the eBay website in 2005. A different 1/1-scale RX-78-2 Gundam bust (from the chest up) now rests in the Bandai Museum.
The only other official life-size replica of a full RX-78-2 Gundam robot was built at the Fuji-Q Highland amusement park at the foot of Mt. Fuji in 2007. However, it was built lying on the floor of a building for an interactive attraction, not standing up like the planned Odaiba statue. A life-size Tetsujin 28-go (Gigantor) statue is still being planned at the Kobe birthplace of its creator, Mitsuteru Yokoyama, although it has been delayed from its previous 2008 opening.
The theme of the overall Mobile Suit Gundam 30th Anniversary Project is "Always Beginning." The life-size Gundam represents the "Real G" phase of the project, while the Gundam Big Expo convention represents the "Feel G" phase. "Soul G" will be a planned collaborative music event based on the Gundam franchise.
Image © Sotsu, Sunrise via Mainichi Shimbun's Mantan Web
Update: Additional information and images added.
---