News

Funimation Parent Navarre Reports Q4 Anime Sales Dip

posted on

2010-06-04

12:30 EDT
Anime sales "declined as a result of a weaker release schedule"
---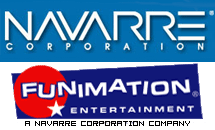 The Navarre Corporation, the Minneapolis-based parent company of anime licensee Funimation,
released
its financial results for the fourth quarter of its 2010 fiscal year on Thursday.
The publishing segment of Navarre, which includes Funimation, Encore, and BCI, had net sales of US$18.8 million in Q4, a decrease of 15% compared to the same period the year before. Although specific sales information for these individual companies was not made available, Navarre said that net sales of computer software increased by over 50%, while anime sales "declined as a result of a weaker release schedule," as they
did
in Q3 also.
The statement also referenced the possible sale of Funimation, which Navarre
announced
on May 27. Navarre will reclassify Funimation as a discontinued operation for Navarre pending the sale, though Funimation will continue to operate as normal.
Navarre reported an overall drop in sales of 6%, but also an increase in operating income (profit minus operating expenses) of 68% and a decrease in debt from US$24.1 million to US$6.6 million, about 73%.
---