×
remind me tomorrow
remind me next week
never remind me
Subscribe to the ANN Newsletter • Wake up every Sunday to a curated list of ANN's most interesting posts of the week.
read more
News

Otakon's Convention Center Evacuated Due to Fire Alarm (Update 5)

posted on by Egan Loo
Con chair states that there was no fire; all attendees ushered outside for 1 hour
---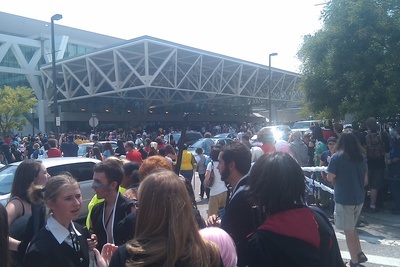 The Baltimore Convention Center, the site of the ongoing Otakon event, was evacuated a little before 2:00 p.m. EDT due to a fire alarm. Although fire fighters and police officers were called to the scene, ANN has not witnessed signs of an actual fire. All Otakon attendees were ushered outside without major incidents, but the all-clear announcement has yet to be given.
Update: Otakon's official Twitter account is announcing at 2:20 p.m. EDT that all attendees must go across the street from the convention center so that the local fire marshal may clear the building.
Update 2: As of 3:00 p.m. EDT, the convention is allowing exhibitors back into the center. Translator and interpreter Toshifumi Yoshida reports that Guest of Honor Yuji Mitsuya led the audience from his interupted panel to the nearby Sheraton Hotel and continued his panel in the hotel's lobby.
Update 3: As of 3:05 p.m. EDT, the convention is allowing regular attendees back into the center.
Update 4: Otakon 2010 Chairperson Shawn Chiochankitmun told ANN that a fire alarm was pulled and emphasized that there was no fire. The Welcome to THE SPACE SHOW Creators Panel, which was scheduled for 3:00 p.m. EDT at the nearby Hilton Hotel, was delayed but was otherwise unaffected. The hotel was not part of the convention center's evacuation.
Update 5: Otakon is extending the operating hours for the dealers room (7:00 p.m. EDT) and art show (11:00 p.m.) on Saturday. It is also rescheduling some panels.
---