News

Navarre to Decide on Selling Funimation in 2 Quarters

posted on

2010-08-03

13:33 EDT by Jacob Browning
Funimation's sector has lower profits compared to last year, when it had DBZ releases
---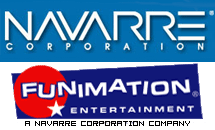 Navarre Corporation, the Minneapolis-based parent company of North American anime distributor FUNimation, released its financial results for the first quarter of fiscal year 2011 on Monday. The financial results cover the three months which ended on June 30.
As Navarre had announced in the previous quarter, Funimation is now listed as "discontinued operations" — a financial term for a segment of a company that has been separated from the rest of the company, or has been approved for separation. Despite the connotations of the term, Funimation continues to operate as normal. Navarre is now reporting Funimation's financial information separately from the rest of Navarre's holdings because it is finding a possible new owner for Funimation. Navarre CEO Cary L. Deacon said, "We anticipate making a strategic decision regarding [Funimation] within the next two quarters."
Navarre's financial results showed a drop in profit for its "discontinued operations." The latest net income for that sector was US$895,000, while the same sector had a net income of US$3.3 million in the first quarter of fiscal year 2010. According to Navarre, Funimation's net income was boosted during the first quarter of fiscal year 2010 by a relatively strong release schedule of Dragonball Z titles.
Navarre announced the possible sale of Funimation on May 27.
---