News

4th Morning Int'l Comic Competition Results Posted

posted on by Egan Loo
Kim DaeJin's "The Unreverberating Echo" from Korea wins; 5th contest set for July 2011
---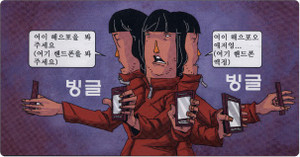 Kodansha's Morning magazine has posted the results of the 4th Morning International Comic Competition in English. The announcement contains summaries and judges' comments on Kim DaeJin's Grand Prize-winning "The Unreberating Echo" entry, the Second Prize entries ("Starfield" by England's Michael Aubtin Madadi, pictured below left, and "Apple Baby Cat" by Hong Kong's -little thunder-, pictured below right), and the five finalist entries. The announcement also includes comments from the Grand Prize and Second Prize winners on their respective wins.
According to Morning, "The Unreberating Echo" is about a college applicant named Chae Jang-Su who "has been studying hard every day. But something was off about this day. Somehow, all the consonants have disappeared from Chae's textbooks. And then Chae is unable to read or speak a single consonant... So why hasn't anyone noticed what's going on? '@!#[email protected]!.' Chae runs wild through the city while screaming these "echoes" understood by no one. This controversial work depicts mankind and the distortions of modern society in a way that embodies the quote by the philosopher Pascal, 'Men are so necessarily mad.'"
Morning 2, Morning's spinoff magazine, has published "The Unreberating Echo" in its 37th issue on Saturday. The entire work has also been posted in color on Morning's website in Japanese, and the English version is slated to go online on Wednesday.

Morning magazine is already accepting submissions for the 5th Morning International Comic Competition. The new competition's deadline is July 31, 2011. As before, the winning entry will be published in Morning, Morning 2, or Morning's website.

Morning 2 published the first Grand Prize winner (rem's "Kage no Matsuri") in 2007, published the second Grand Prize winner (Meng-Li Yu/YOVOVA's "Fairy Tale") in 2008, and published the third Grand Prize winner (Huang Chun-chan's "Poor Knight") in 2009.
Sources: AnimeAnime.jp, Comic Natalie
---