×
remind me tomorrow
remind me next week
never remind me
Subscribe to the ANN Newsletter • Wake up every Sunday to a curated list of ANN's most interesting posts of the week.
read more
News

Yamato 2199 Composer Is Original Yamato Composer's Son

posted on by Jennifer Sherman
---

The Space Battleship Yamato 2199 Production Committee announced on Thursday that Akira Miyagawa (Shin Mazinger Shōgeki! Z-Hen, Emily of New Moon) will compose the Space Battleship Yamato 2199 television and film anime project. His father Hiroshi Miyagawa composed music for the original 1974 Space Battleship Yamato anime series and its related film and television sequels.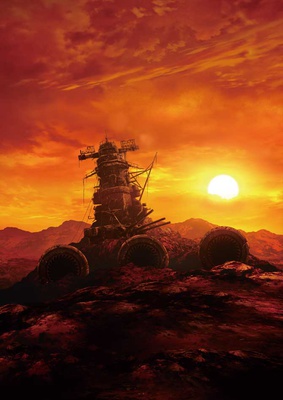 The younger Miyagawa is re-scoring his father's work as well as composing new music. He is recording the music with a full orchestra during a one-month period. The Space Battleship Yamato 2199 Production Committee posted an interview with the composer on the anime's official website.
The Space Battleship Yamato 2199 film will open on April 7 in 10 theaters throughout Japan. The 50-minute movie will be the first two episodes of the new television series, combined into one theatrical preview screening.
Yamato 2199's basic story is the same as the first Yamato anime set in 2199, but Yutaka Izubuchi (RahXephon), the 52-year-old animator who worked on mechanical designs and science-fiction concepts on some of the earlier projects in the franchise, is serving as chief director. Yoshinobu Nishizaki, the late producer of the franchise, is credited with the original story. Nobuteru Yuki (Escaflowne, Record of Lodoss War) is designing the characters, and the anime studios XEBEC and AIC are producing the anime. Mechanical designer Makoto Kobayashi (Giant Robo, Last Exile, Space Battleship Yamato Resurrection) revealed at Anime Expo in July that he is working on a Yamato remake for this year.
Nishizaki and Leiji Matsumoto's Yamato space opera anime franchise began with the first Space Battleship Yamato television series in 1974. The titular spaceship Yamato is built from the remains of the World War II battleship of the same name to protect Earth from extraterrestrial threats. Over the next 35 years, the television anime spawned two television sequels, two video projects, and six films including 2009's Space Battleship Yamato Resurrection. The anime was dubbed and partly rewritten in English as Star Blazers. A live-action film remake of the original Space Battleship Yamato anime opened in Japan in December 2010.
Source: Anime! Anime!
Image © Space Battleship Yamato 2199 Production Committee
Update: Name corrected. Thanks, mrsatan.
---