News

Mawaru Penguindrum and Bodacious Space Pirates Released Monday

posted on by Andrew Osmond
---

Manga Entertainment will release the first volume of Mawaru Penguindrum (right) on Monday May 6, including the first twelve episodes of the series. The story centers around three siblings, twins Kanba and Shouma, and their ill sister, Himari Takakura. Himari passes away after going out on a trip with her brothers but is miraculously brought back to life by a penguin-shaped hat. In return for her extended life, the twins must search for an item known as the Penguindrum with the aid of three penguins which are visible only to the siblings.
Mawaru Penguindrum is Kunihiko Ikuhara's first major work since directing Revolutionary Girl Utena: The Movie in 1999. The series was released in 2011, produced by Brains Base. Lily Hoshino provided the original character design and Yukari Hashimoto (Sankarea, Toradora!) handled the music.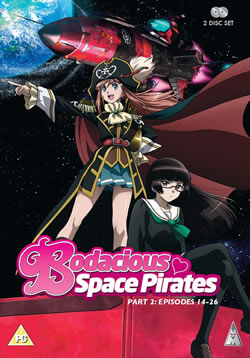 MVM Entertainment will release its second volume of Bodacious Space Pirates (left), carrying the second half of the 26-part series. The story involves a spirited high school girl named Marika, who is told she has inherited a space pirate ship, and finds herself embarking on a new life as a pirate.
---