×
remind me tomorrow
remind me next week
never remind me
ANN Reader Survey • If you haven't had a chance yet, please fill out our annual survey, It's so helpful to us. As a thank you for filling out this massive survey, we're giving away 100 ANN subscriptions to people who fill it out.
read more
×
remind me tomorrow
remind me next week
never remind me
Subscribe to the ANN Newsletter • Wake up every Sunday to a curated list of ANN's most interesting posts of the week.
read more
News

Sentai Filmworks Adds Sacred Seven, Big O, Kurokami, More (Updated)

posted on by Crystalyn Hodgkins
---

Sunrise announced at its panel at Otakon on Saturday that Sentai Filmworks has licensed the following Sunrise titles:
Yoshimitsu Ohashi and Sunrise's Sacred Seven anime series premiered in Japan in 2011. The story follows Alma Tandoji, an antisocial 17-year-old who inherited overwhelming abilities due to the "Sacred Seven;" seven alien meteorites that landed on Earth the year he was born. The Aiba Foundation recruits Alma to fight a a mysterious enemy wrecking havoc. Crunchyroll streamed the series as it aired in Japan. It has not previously been released in North America.

The Big O and The Big O II aired in Japan in 1999 and 2003. The series had a successful run on Cartoon Network's Toonami block, leading to the production of the second season by Cartoon Network, Sunrise, and Bandai Visual. The story takes place in Paradigm City where Roger Smith keeps the city safe with his giant robot The Big O.

Argento Soma is an original anime series conceived by Sunrise Studio's Hajime Yatate, Hiroshi Yamaguchi, Hiroyuki Kitajima Kazuyoshi Katayama, Shin Yoshida, and Toru Nozaki. The series aired in Japan in 2000 and Bandai Entertainment licensed the series for release in North America in 2003. The story follows Takuto Kaneshiro, a gifted young man and considered by most to be something of a genius. With a sweet, lovable girlfriend, he's got a lot of dreams for his future. But those dreams soon turn to nightmares when Takuto is involved in a freak accident during a secret experiment. The things most dear to him are taken away. Presumed dead, Takuto is reborn as Ryu Soma. And the only thing on his mind is revenge.

Betterman aired in Japan in 1999. Based on an original concept by Hajime Yatate, the story takes place in a world stricken by a deadly virus known as "Algernon." The mysterious Akamatsu Industries employs neural inhanced weapons known as NueroNoids to battle the virus alongside the enigmatic mutant Betterman. Bandai Entertainment licensed the series and released it in North America in 2002.

The 2001 sci-fi series s-CRY-ed was previously released by Bandai Entertainment in 2003 and aired on [Adult Swim] in 2005. The story follows a young mercenary named Kazuma who lives in the Lost Ground, an area created after a strange environmental phenomenon effected Kanazawa prefecture. Kazuma has the Alter ability, which allows him to plaster his right arm and torso with a metallic alloy. He finds himself in a battle against HOLY and its elite member, Ryuho.

The 2006 mecha series Zegapain was previously released in North America in 2007. The story follows Kyo, the lone member of his high school swim team. To keep the team afloat, he recruits Misaki to create a promotional video for the club. She agrees, but only if Ryo will pilot a mecha under the wing of Celebrum, a resistance organization fighting to destroy Deutera Areas formed on Earth by the aliens Gards-orm.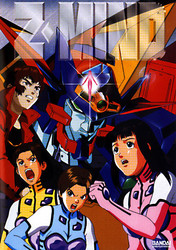 The six-episode original anime video series Z-Mind was released by Bandai Entertainment in 2002. The series follows group of sisters are the only ones who can pilot a mysterious robot to save the world from an unknown alien life-form. Hajime Yatate conceived the story which was directed by Yasuhiro Matsumura (Landlock, Papillon Rose).

The sci-fi series The Girl Who Leapt Through Space ran for 26-episodes in 2009. The series follows Akiha Shishido, a girl who encounters a malevolent A.I. named Leopard in the future colonies of space. Bandai released the series on sub-only DVDs in North America in 2011.

The psychological sci-fi series Infinite Ryvius was previously released in North America in 2003. The series takes place in AD 2225 where Kouji Aiba and Aoi Housen are serving as astronauts in-training. When saboteurs cause the spacecraft to crash, all the adults on board are killed, leaving only the young astronauts will have to survive on their own.

Kurokami The Animation was previously released on dub-only Blu-ray and bilingual DVD in North America in 2009 and 2010. Based on the manga Black God by Dall-Young Lim and Sung-woo Park, the story takes place in a world where three "doppel liners," three people who share the same fate, and god-like beings called Terra Guardians protect the natural balance of power. Keita Ibuki is drawn into the intricacies of the world when he meets a young Terra Guardians named Kuro.

The 26-episode sci-fi series Brain Powered was released by Bandai Entertainment in North America in 2002. The story follows two warring sides on a ravaged Earth: the Reclaimers and crew of the ship Novis Noah. The Reclaimers support the organic alien vessel Orphan who risks wiping out all energy from the planet. A former Reclaimer, Yuu Isami and a girl named Hime Utsumiya pilot antibody powersuits called Brain Powerd to defend Earth.

Overman King Gainer follows humans surviving catastrophic environmental conditions on a futuristic Earth. Two individuals commandeer an Overman mecha to lead their fellow humans out of the Siberian Dome-polis. Bandai Entertainment released the 26-episode series on DVD in 2005.
Sunrise producer Masayuki Ozaki had revealed in May that the company was in talks with Sentai Filmworks and Funimation to distribute former Bandai Entertainment titles.
Update: Info, images, and additional titles added.
---