News

Super Sonico Anime Previewed in 3-Minute Promo

posted on by Egan Loo
---
The official website for SoniAni: Super Sonico the Animation-, the upcoming anime of Nitroplus's music mascot Super Sonico, began streaming its second promotional video this week. Voice actor Tomokazu Sugita narrates the three-minute video with the opening theme song "Beat goes on!"
In the video, "Daiichi Uchū Sokudo" (Fastest Speed in Space) band vocalist and guitarist Super Sonico finds herself in a bind — her band members can't make a concert venue in time, so she has to start the concert alone.
Sugita then introduces Super Sonico's backstory: the 18-year-old girl keeps busy as a college student, a part-time photoshoot model, and a musician. She even works at her grandma's bar.

Super Sonico
Birthplace: Muashino City, Tokyo
Birthdate: October 14, 2006 (18 years old)
Blood type: A
Height: 158 cm (5 feet, 2 inches)
Three sizes: B90 - W57 - H87
Hobbies: Bathing, playing with cats, games
Talents: Guitar, cooking (Japanese cuisine)
Favorite foods: Ramen (roast pork), macaroon
"Super Sonico," the mascot girl of the "Nitro Super Sonic" events held by Nitroplus, is credited with playing herself in the lead role and performing the opening theme song. (The theme will be Super Sonico's major label debut on February 26.)
Sugita also introduces the rest of the main cast: Mai Goto, Mami Ozaki, and Ryota Takeuchi as the band leader/bassist Suzu Fujimi, drummer Fūri Watanuki, and manager Kitamura, respectively. Hisako Kanemoto plays Ōka, while Kikuko Inoue plays Sonico's grandma.

Suzu Fujimi
Birthplace: Chiyoda Ward, Tokyo
Birthdate: February 14
Blood type: AB
Hobbies: Playing an unlicensed beautician, various others
Talents: Professional wrestling (particularly the drop kick)
Favorite foods: Melon

Fūri Watanuki
Birthplace: Takamatsu City, Kagawa Prefecture
Birthdate: June 13
Blood type: Secret
Hobbies: Eating
Talents: Drumming
Favorite foods: Pork bun
Kenichi Kawamura is directing the anime at the Studio White FOX (Steins;Gate, Katanagatari, The Devil Is a Part-Timer!). Yousuke Kuroda is writing the scripts, and Masafumi Tamura is designing the characters.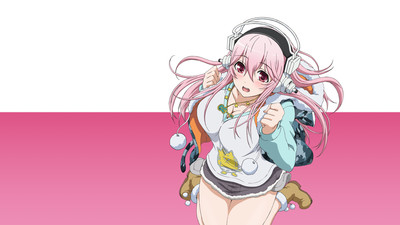 The "Daiichi Uchū Sokudo" band will perform the anime's ending theme song.
The anime will premiere on January 6 on the AT-X, Tokyo MX TV, Sun TV, KBS Kyoto, TV Aichi, and BS 11 channels. It will also be available on the Niconico and dAnime Store sites in January.
The anime's website has also announced that NTT's Docomo Anime Store is holding a campaign to thank its customers by giving away a SoniAni itsha plastic model in a random drawing.


The Super Sonico character already inspired her own line of games, as well as figures including a giant 1/2-scale statue. Super Sonico is also appearing in Namco Bandai Games' Super Heroine Chronicle for the PlayStation 3 and PS Vita systems and even in a promotion for THQ's Saints Row: The Third game.
[Via NicoTubeAnime]
Images © Nitroplus/SoniAni Project
---