News

Cyborg 009 Finale Manga to End in 5th Volume

posted on by Lynzee Loveridge
Story entered its final arc in August
---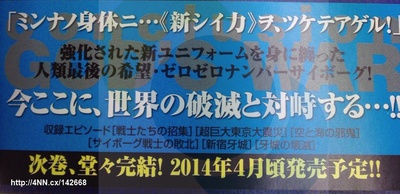 The wraparound jacket band on the fourth volume of Masato Hayase and Sugar Satō's Cyborg 009 Kanketsu-Hen conclusion God's War manga announced on Friday that the fifth volume will be the series' last. The manga entered its final arc last August, and the fifth volume is scheduled for April. The manga is published on Shogakukan's free online manga website Club Sunday.
Cyborg 009 Kanketsu-Hen conclusion God's War will conclude the Cyborg 009 science-fiction story as a manga series, 15 years after Ishinomori passed away. Club Sunday launched the Cyborg 009 Kanketsu-Hen conclusion God's War arc in April 2012.
Ishinomori's son, actor and filmmaker Jo Onodera (Kamen Rider Kuuga, Shin Kamen Rider), outlined the story based the conceptual notes, rough sketches, and the novel draft that Ishinomori himself left behind. Masato Hayase (Kikaider), a former assistant of Ishinomori, and Sugar Satō have drawn the new manga with Ishinomori's former studio Ishimori Productions.
The first Cyborg 009 manga launched in Shounen Gahousha's Weekly Shonen King magazine in 1964, and then ran for nearly 22 years in Weekly Shonen Sunday, Monthly Shonen Jump, and other magazines. Web Sunday published the first new Cyborg 009 manga in 18 years in 2010. Ishinomori's definitive work also inspired three television series and several films, including's 009 Re:Cyborg by Kenji Kamiyama (Ghost in the Shell: Stand Alone Complex, Eden of the East).
Ishinomori created the original Cyborg 009 manga about nine unsuspecting humans who are transformed into cyborgs by the secret Black Ghost organization. However, the nine cyborgs turn on their masters and protect the rest of humanity from Black Ghost's plans for world war.
Update: Club Sunday will finish its serialization on February 4.
---