News

Atelier Escha & Logy Anime's Cast, Staff Unveiled

posted on by Sarah Nelkin
---
The official website for the anime adaptation of Gust's Atelier Escha & Logy: Alchemists of the Dusk Sky (Escha & Logy no Atelier: Tasogare no Sora no Renkinjutsushi) PlayStation 3 video game opened on Thursday, and unveiled the show's cast and staff.
Cast
Rie Murakawa as Escha Malier
Kaito Ishikawa as Logix "Logy" Ficsario
Asami Seto as Wilbell Voll-Erslied
Mariya Ise as Nio Altugle
Ami Koshimizu as Linca
Kana Ueda as Marion Quin
Hibiku Yamamura as Chrone
Kana Akutsu as Flameu
Mariko Honda as Lucile
Kenji Akabane as Awin Sidelet
Chiharu Kitaoka as Threia Hazelgrimm
Yasunori Matsutani as Reyfer Luckberry
Tomo Muranaka as Micie Sun Mussemburg
Chihiro Uno as Quartra
Daisuke Matsubara as Sol Grumman
Kento Fujinuma as Corland
Tsuyoshi Koyama as Duke
Mitsuaki Madono as Harry

Staff
Director: Yoshiaki Iwasaki (The Familiar of Zero, Love Hina)
Series Composition: Tatsuhiko Urahata (Haganai NEXT, Horizon in the Middle of Nowhere)
Scripts: Tatsuhiko Urata, Tatsuya Takahashi (The Everyday Tales of a Cat God, Kin-iro Mosaic), Yoriko Tomita (Oreshura)
Character Design/Animation Director: Keiya Nakano (Ghastly Prince Enma Burning Up, Tiger & Bunny episode animation director)
Monster Design: Etsunobu Iwanaga (Cuticle Detective Inaba, Beelzebub prop design)
Art Director: Chikako Shibata (Bakuman., Chobits)
Color Key: Tamae Matsuoka (Bottle Fairy, MM!)
Director of Photography: Yasuhiro Akamatsu (Medaka Box, The Mystic Archives of Dantalian)
Editing: Masahiro Goto (Haibane Renmei, The Devil is a Part-Timer!)
Sound Director: Jin Aketagawa (anohana: The Flower We Saw That Day, The Eccentric Family)
Animation Production: Studio Gokumi (Saki - The Nationals, Kin-iro Mosaic)
The cast remains unchanged from the game.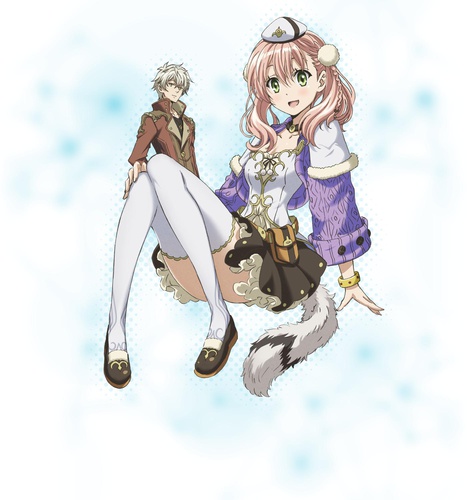 The website also posted the first key visual for the anime (seen above). The anime will premiere in April.
Gust shipped Escha & Logy no Atelier: Tasogare no Sora no Renkinjutsushi for PlayStation 3 in Japan on June 27. Los Angeles-based game company acttil confirmed on behalf of Tecmo KOEI America that Atelier Escha & Logy: Alchemists of the Dusk Sky will be released in North America this year. The company acttil describes the story:
This world has gone through many Dusks, and is slowly nearing its end. Within this world, in the western reaches of the "Land of Dusk," there was a nation that prospered thanks to its use of alchemy. There, in order to survive the eventual arrival of the "Dusk End," the people devoted their efforts to rediscover and recreate lost alchemic technologies. Rediscovered technology from the past era was gathered in the alchemy research city known as "Central," where research was conducted on how to halt the advance of the twilight. One of the heroes is a young man who researched alchemy in Central, the other a girl living in a small town on the frontier. This girl's name is Escha. In the process of using her knowledge of ancient alchemy to help others, she was assigned to the Development Department. The young man's name is Logy. Having learned the newest alchemic techniques in Central, he requested a transfer to this understaffed town to make use of his abilities, and meets Escha when he is assigned to the Development Department as well. The two make a promise to use their alchemy together, and bring success to the Development Department.
Via [0takomu]
---