News

2013 Doraemon Film's Japanese TV Airing Gets Censored

posted on by Crystalyn Hodgkins
Scene where Shizuka encounters "hyper vacuum" is censored in
TV Asahi
broadcast
---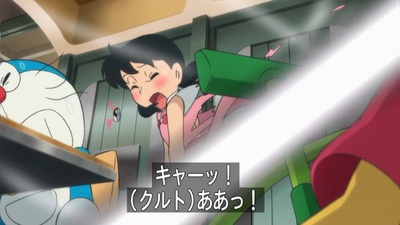 TV Asahi aired the 2013 Doraemon film Doraemon: Nobita no Himitsu Dōgu Museum on March 6 with a censored scene. In the scene, the character Shizuka encounters the secret tool "hyper vacuum," and the vacuum sucks up the clothes she is wearing, including her underwear. In the TV broadcast version of the scene, lines of light were used to censor Shizuka when her clothes were sucked up by the vacuum (see image at right).
Doraemon: Nobita no Himitsu Dōgu Museum, the 33rd film in the long-running children's anime franchise, opened in Japan in March 2013. The movie begins when the signature bell of the titular robot cat Doraemon has been stolen. To get it back, Nobita and his friends have to go to the museum where all of Doraemon's gadgets originate.
Livedoor News notes that the Doraemon television anime series has often shown scenes of Shizuka taking a bath or getting into the bathtub, although those scenes have become less frequent in recent years. However, an episode that aired on February 28 did include a scene of Shizuka in a bathtub. The website also notes that since the March 6 broadcast of the 33rd film, many people online have been joking about how Japan's "national anime" was censored "like a late night anime."
Critics of the amendment to Tokyo's Youth Healthy Development Ordinance specifically cited these Doraemon scenes as examples of what might be subject to the new law on depictions of fictional youths. Before the amendment was passed, Tokyo's Office for Youth Affairs and Public Safety asserted that these scenes would not be restricted.
Source: Livedoor News via Yaraon
(Note: the Yaraon link contains original movie screenshots of the Shizuka scene and may not be safe for work.)
---