News

Persona 4 U2 PS3 Game's Junpei Iori Character Promo Streamed

posted on by Egan Loo
Junpei proposes to Chidori in his dreams in new promo for August 28 PS3 port of arcade game
---
The official YouTube channel for Japanese game developer Atlus began streaming a character promotional video for Junpei Iori from the upcoming PlayStation 3 port of the Persona 4 The Ultimax Ultrasuplex Hold arcade game. The game is the sequel to Persona 4 The Ultimate in Mayonaka Arena (Persona 4 Arena outside Japan). Kousuke Toriumi voices the character.
Junpei: I'm sorry for causing you so much trouble all the time... I'm like this, but... Please marry me, Chido-!! Ah... No way... It was a dream...
Junpei: Ah, Ya-so I-na-ba, huh... Wait, where is this!?
Junpei: Ah! That "everyday young life" thing! (a reference to the Japanese Junes theme)
Junpei: Who are you calling a mob character! And whoa, Yukari-cchi is horrific!
Junpei: I'm Junpei Iori, head of the Shadow Walkers!
Junpei: I'll take this on!
Narrator: Simply simple AAA simply easy-going ta-ta-ta! The super-speed full-power racing slugger! Junpei Iori!
Junpei: Is this... a Shadow? So this really is the Dark Hour?
Junpei: Wait, Feather Pink! We can talk this out! It's dangerous to point that kind of thing at people-!
Junpei: Well then, it looks like it's time for Junpei Iori Hour!
Shadow Junpei: OK, Game Over time. Too bad.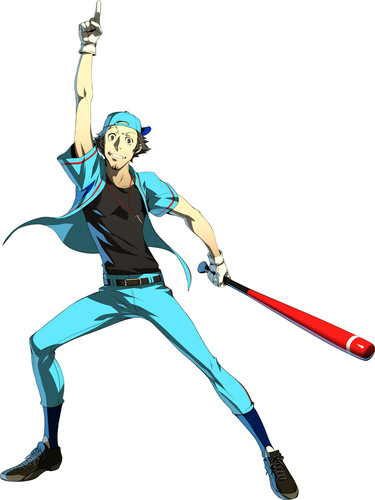 Junpei Iori
Voice: Kousuke Toriumi
Main Weapon: Bat
Type: Baseball Type
Persona: Trismegistus
Hit attacks with the bat, and get the runner to base! When your points increase, Junpei's attack increases! His Persona Trismegistus uses a fiery charge to attack opponents within a mid-to-distant range.
As with Yukari, Junpei participated in Persona 3. Now 19 years old, he works as an emergency member of Mitsuru's Shadow control police unit, the Shadow Workers. He participates in the unit under Mitsuru's request, but he does not get many calls for action. When he's free from the unit, Junpei works at a part time job while coaching junior league baseball on his days off. He ends up being thrown into a strange incident when he arrives to the rural town of Inaba...
The story takes place only a few days after the events of Persona 4 Arena, when the town of Inaba is clouded in a shroud of red fog in which time is warped and people disappear. Inaba has almost become like the world inside the television. To add to it all, the members of the Persona 4 team find Mitsuru and Akihiko being crucified on the Midnight Channel. In front of the Inaba students appear Yukari and Junpei, members of the Shadow Worker unit who have come to the rural town in order to save their upperclassmen.
The PlayStation 3 port of the arcade game will ship in Japan on August 28. First copies will come with a code to download extra scenario set for the game. Atlus will ship the game in North America this fall under the title Persona 4 Arena Ultimax.
Atlus released the first Persona 4 The Ultimate in Mayonaka Arena game in Japan last summer on the PlayStation 3 and Xbox 360 consoles, and Atlus USA released the game in North America.
---
this article has been modified since it was originally posted; see change history