News

Kindle Removes Manga That Tokyo Designated as 'Unhealthy'

posted on by Karen Ressler
Comic ranks #1 on bestseller list before removal
---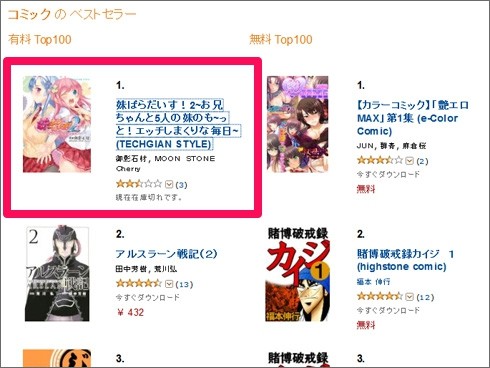 Amazon removed the Imōto Paradise! 2 manga from its Kindle store on Wednesday after the Tokyo Metropolitan Government ruled earlier this week that the book is considered an "unhealthy publication." Earlier on Wednesday, the book had ranked number one on Amazon's comic bestseller list for Kindle.
Full restrictions on the book will go into effect on Friday, at which point bookstores will be prohibited from selling or renting the book to minors younger than 18 years old, or allowing them to browse the book. To that end, bookstores will be legally obligated to separate and place the book in an adult section.
Imōto Paradise! 2 was designated under the revised Youth Healthy Development Ordinance due to its "glorification of incestuous acts." The publication was the first to be formally restricted as such by the government since Bill 156 went into effect in July of 2011.
The revised Youth Healthy Development Ordinance expanded the number of manga and anime that fall under "harmful publications," the legal category of works that must not be sold or rented to people under the age of 18. Erotic material was already restricted before the amendment, but the amended law also restricts the sales and renting of materials that the Tokyo Metropolitan Government considers "to be excessively disrupting of social order."
The Imōto Paradise! 2 manga by artist Sekizai Mikage adapts Moon Stone Cherry's 2013 adult game of the same name. The first Imōto Paradise! game inspired an adult original video anime project.
---