News

Hanabee Streams Entire Series of The Familiar of Zero

posted on by Jon Hayward
---
For the entire month of August, every Friday at 3:00pm Hanabee will be releasing an entire anime series to watch for free on Hanabee.com.au. Last week Hanabee announced WATAMOTE - No Matter How I Look at It, It's You Guys' Fault I'm Not Popular! and now this week the release is The Familiar of Zero (Zero no Tsukaima).
If you would like to watch all 13 episodes of The Familiar of Zero, you can do so here. Please note that you will be required to sign up for a Hanabee.com.au account in order to watch the show.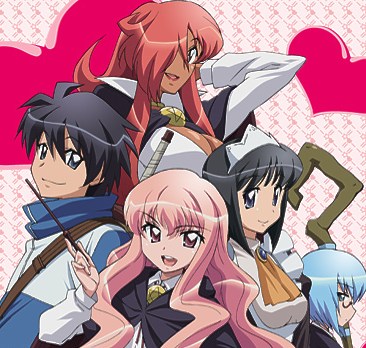 The Familiar of Zero
Louise Francoise Le Blanc de La Valliere has it tough, a poor little rich girl who has zero ability for magic which makes it incredibly difficult to study at the Tristain Academy of Magic. But when "Louise the Zero" summons her familiar, instead of summoning a fierce mythical creature she ends up pulling in Saito Hiraga, a normal everyday Japanese teenager. With no-other choice but to accept Saito as her familiar, Louise must learn to get along with Saito as he might just be the key to unlocking her abilities and saving the country.
The tv series is based on the late author Noboru Yamaguchi's light novel series "Zero no Tsukaima" which has went on to inspire four televion anime series. This first 13 episode series originally aired in 2006 and was directed Yoshiaki Iwasaki (Hayate the Combat Butler, Love Hina) off of Takao Yoshioka's (Ikki Tousen, Elfen Lied) scripts at J.C. Staff. The series stars Rie Kugimiya as Louise ad Satoshi Hino as Saito in Japanese and Cristina Vee with Jonathan Meza in English.
The series was originally released by Genon Entertainment (USA) Inc but later Funimationacquired the rights and finally Sentai Filmworks currently has the license in North America. Seven Seas Entertainment has been releasing Nana Mochizuki's manga adaptation in North America.
Hanabee originally released the first season on DVD and Blu-Ray on the 7th of May 2014. At this moment we do not know if Hanabee will release the later seasons including Zero no Tsukaima: Futatsuki no Kishi, Zero no Tsukaima: Princess no Rondo and The Familiar of Zero F.

WATAMOTE (No Matter How I Look at It, It's You Guys' Fault I'm Not Popular!)
The slice-of-life gag comedy centers around Tomoko Kuroki, a girl who thought she would be popular when she went to high school. However, she was in for a rude awakening, for cruel reality is not like the otome games (romance games for female players) she played.
Shin Oonuma (Baka and Test - Summon the Beasts, Natsu no Arashi!) directed the anime at animation Studio Silver LINK from scripts by Takao Yoshioka (The Familiar of Zero, High School DxD). Hideki Furukawa (Date A Live, Kannagi: Crazy Shrine Maidens) was the chief animation director and handled the character designs. Satoshi Motoyama was the sound director and Sadesper Record provided the music.
Tanigawa launched the manga in Square Enix's Gangan Online website in 2011, and Square Enix has published six volumes as of March 2014. A four-panel spin-off manga launched in January 2013 and Yen Press has been publishing the original manga in North America.
The series was streamed on Crunchyroll, Sentai Filmworks licensed WATAMOTE in July last year for North America and will release the title in September. MVM licensed the series for the UK in March this year.
Hanabee's release will have all 12 episodes subbed and dubbed on both Blu-ray and DVD from the 1st of October 2014. If you would like to watch WATAMOTE online please visit hanabee.com.au.
---