News

AKB48 Idols' Attacker Satoru Umeta Sentenced to 6 Years

posted on
Man inflicted bone fractures, lacerations on 2 AKB48 members last May
---
The district court of Morioka, Iwate Prefecture sentenced 24-year old Satoru Umeta, the man on trial for attacking and injuring two AKB48 members and one male staff member at a handshake event last May, to six years in prison on counts of assault and violation of the Sword and Firearms Control Law on Tuesday.
The defense has stated that Umeta will reflect on the incident and asked that extenuating circumstances be considered in his sentence. The prosecution had sought a prison sentence of seven years.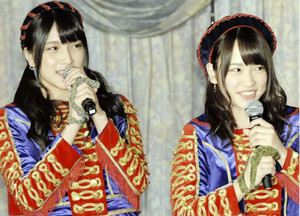 The attack occurred on May 26 at about 4:55 p.m. in Takizawa City. Umeta's assault, using a saw outfitted with box cutter blades, left AKB48 idol group members Anna Iriyama and Rina Kawaei with non-life threatening injuries. Kawaei suffered a laceration and bone fracture in her right thumb, while Iriyama suffered a fracture in her right pinky finger and a laceration to the head. A male staff member also suffered cuts to his left hand.
AKB48 halted all handshaking events for over a month until July, when they resumed with new security measures, including subjecting attendees to bag searches and metal detectors.
A new AKB48 documentary film, titled Documentary of AKB48 The Time has come Shōjo-tachi wa, Ima, Sono Senaka ni Nani wo Omou?, , opened in Japan on July 4. The film, which is the fourth documentary about the idol group, covered the group's activities from January 2013 to June 2014, with particular focus on the handshake event incident and reactions from the other members in the second half.
Source: Asahi Shimbun Digital via Hachima Kikō
---