News

Keytalk, Passepied to Perform Rin-ne TV Anime's Theme Songs

posted on by Crystalyn Hodgkins
---

The official website for the television anime of Rumiko Takahashi's Kyōkai no Rinne (RIN-NE of the Boundary or RIN-NE) manga revealed on Tuesday that the band Keytalk will perform the show's opening theme song "Ōkaranman," and the band Passepied (pictured at right) will perform the ending theme song "Tokinowa."
Keytalk's Yoshikatsu Shutō composed and wrote the lyrics for the opening theme song. Passepied's keyboardist Haneda Narita composed the ending song, and vocalist Natsuki Ogoda wrote the lyrics. Passepied's single with "Tokinowa" will ship on April 29. Both bands have not contributed an anime theme song before, although Passepied did contribute to the Appleseed Alpha soundtrack.
The show's main cast is as follows:
Kaito Ishikawa as title lead Rinne Rokudō
Marina Inoue as heroine Sakura Mamiya
Hitomi Nabatame as the black cat Rokumon
Satsuki Yukino as Rinne's grandmother Tamako
Kappei Yamaguchi as Rinne's father Sabato Rokudō
Viz, the publisher of most of Takahashi's manga in North America, describes RIN-NE's story:
As a child Sakura Mamiya mysteriously disappeared in the woods behind her grandma's home. She returned whole and healthy, but since then she has had the power to see ghosts. Now a teenager, she just wishes the ghosts would leave her alone! At school, the desk next to Sakura's has been empty since the start of the school year. Then one day her always-absent classmate Rinne Rokudō shows up, and he's far more than what he seems!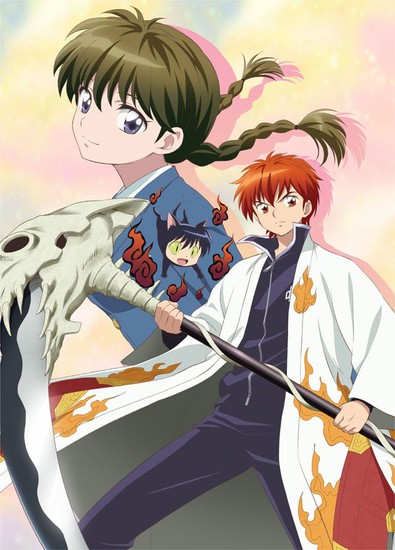 The anime will run for 25 episodes. Seiki Sugawara (D-Fragments) is directing the anime at Brains Base (One Week Friends), and Michiko Yokote (Ranma ½, Shirobako) is in charge of the series scripts. Akimitsu Honma is composing the music, and NHK Enterprises, NHK, and Shogakukan Shueisha Production are producing.
The television anime will premiere on April 4 on the public broadcaster NHK's E Tele channel.
Takahashi created such manga as Ranma 1/2, Maison Ikkoku, and Urusei Yatsura before she began serializing RIN-NE in Weekly Shonen Sunday in 2009. (She ended her long-running series Inuyasha in the same magazine.) The manga has consistently ranked in on Japan's best-seller list.
Source: Natalie
---