×
remind me tomorrow
remind me next week
never remind me
Subscribe to the ANN Newsletter • Wake up every Sunday to a curated list of ANN's most interesting posts of the week.
read more
News

Rumiko Takahashi's RIN-NE Manga Gets TV Anime Next Spring

posted on by Egan Loo
---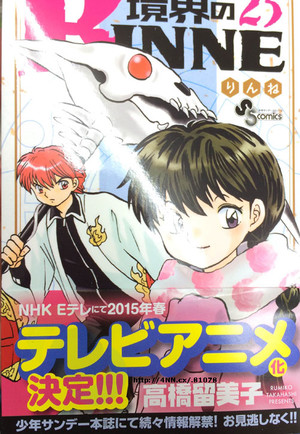 The wraparound jacket band on Rumiko Takahashi's 23rd Kyōkai no Rinne (Rinne of the Boundary or RIN-NE) manga is announcing on Tuesday that a television anime adaptation of the manga has been green-lit. The anime will air next spring on the public broadcaster NHK's E Tele channel. Shogakukan's Weekly Shonen Sunday magazine, the home of the supernatural comedy manga, will carry more information on the anime.
Viz, the publisher of the manga in North America, describes the story:
As a child Sakura Mamiya mysteriously disappeared in the woods behind her grandma's home. She returned whole and healthy, but since then she has had the power to see ghosts. Now a teenager, she just wishes the ghosts would leave her alone! At school, the desk next to Sakura's has been empty since the start of the school year. Then one day her always-absent classmate Rinne Rokudo shows up, and he's far more than what he seems!
Takahashi created such manga as Ranma 1/2, Maison Ikkoku, and Urusei Yatsura before she began serializing RIN-NE in Weekly Shonen Sunday in 2009. (She ended her long-running series Inuyasha in the same magazine.) The manga has constantly ranked in on Japan's best-seller list.
An anime commercial starring Mariya Ise (Yes! Precure 5, Hatsukoi Limited) as Sakura Mamiya, Kouki Uchiyama (Soul Eater, Nisekoi) as Rinne Rokudo, and Rie Kugimiya (The [email protected], Gintama) as Rinne's assistant black cat, Rokumon, premiered in 2009:

Sakura: They say that if you put an offering in the instrument shelter box and make a wish, there's something out there that will solve your spiritual problems...
Rinne: Omnomnomnom...
Sakura: Hey!
Rinne: Wait, you can see me?
Rokumon: Roar! This is bad! The Boundary has been broken!
Rinne: Well, I guess it can't be helped, since it's them.
Sakura: They're just way too energetic.
Rokumon: Entertainment that breaks limits!
All: Shonen Sunday!
Viz Media shipped the 16th compiled volume in North America on Tuesday. (Viz Media releases the manga in North America under the title RIN-NE.)
This year's 50th issue of Shonen Sunday reported last Wednesday that the manga has a "super important announcement" planned for next week's issue. The text on the page reads, "Afterschool time is about to get a whole lot more fun!" The Internet domain name "anime-rinne.com" was registered on October 29 on behalf of Shogakukan Shueisha Productions. There is currently no website at the web address.
---