×
remind me tomorrow
remind me next week
never remind me
Subscribe to the ANN Newsletter • Wake up every Sunday to a curated list of ANN's most interesting posts of the week.
read more
News

2nd Sore ga Seiyū! Trailer Confirms Cast Led by Rie Takahashi

posted on by Sarah Nelkin
---
The staff animating Sore ga Seiyū! (That's a Voice Actor!), the manga by voice actress Masumi Asano (.hack// franchise' BlackRose, Hayate the Combat Butler's Risa) and manga creator Kenjirō Hata (Hayate the Combat Butler), confirmed the main voice cast on Monday. According to the production unveiling that was streamed live on the Niconico service, the cast members are:
Rie Takahashi
as Futaba Ichinose


Marika Kōno as Rin Kohana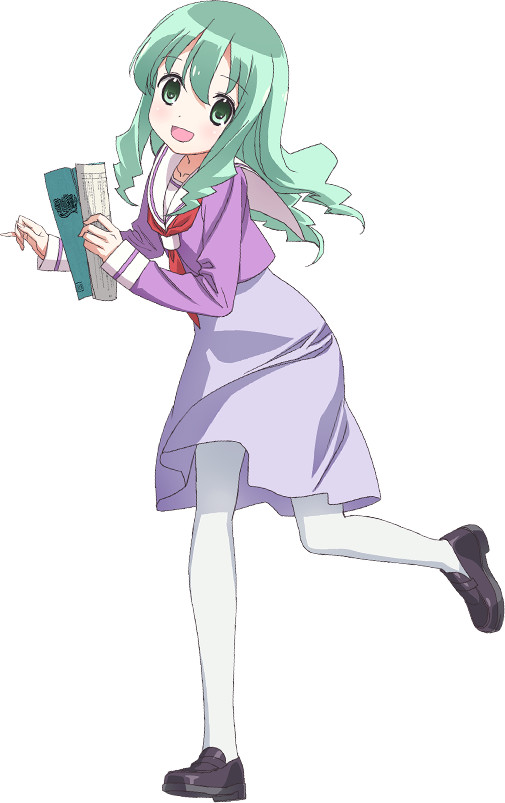 Yuki Nagaku as Ichigo Moesaki


When asked if Asano herself will voice a character in the anime, she replied that she could not say if she would or not. However, she added that fans would probably understand what she is talking about when they see a certain scene within the anime.
The three main cast members are forming an voice actress idol unit called "Earphones," which will release the single "Mimi no Naka e" (Into Your Ears) on June 18. The song is heard in the anime's new trailer below:
Dog: Good morning, Futaba Ichinose. What is today?
Futaba: Today's the day I go to the recording for Buddhist Warrior Bossaon. My character name is "Female Student D!"
Dog: Yes. Bossaon is a super popular anime. Futaba, you will be appearing in an anime for the very first time, but...
Dog: Do you know what the first recording session for a new voice actress means?
Futaba: Yes. It's super out of my comfort zone.
Futaba: Well, a recording session is uncomfortable for a newbie...
Dog: Then don't say that!
Futaba: Ah... I'm so nervous... If I could, I'd like to just fall back asleep...
Dog: But this your job. This is the job of a voice actress that you chose.
Futaba: Script, check. Throat candy, check. Drink, check. Map to the studio, check. Electronic dictionary, check.
Futaba: Clothes that don't make much sound, check!
Futaba: I know, Korori.
Futaba: It's OK! I'll make my comfort zone outside of this house!
Text: Futaba Ichinose - She doesn't know her own unique points! She's not spectacular, but she's the protagonist!
Text: Ichigo Moesaki - Her dream is to become an idol seiyū who sings and dances! Her real name is absolutely a secret!
Text: Rin Kohana - She debuted as a child actress at age 5! This is her 10th year in show business!

The four-panel manga centers on Futaba Ichinose, Ichigo Moesaki, and Rin Kohana, three rookie voice actresses. The manga features small but humorous observations of the voice actor industry. The manga creator and voice actress duo Hajimemashite launched the manga at the winter Comiket event in 2011, and they have released new issues at Comiket events since then.
Hiroshi Ikehata (Robot Girls Z) will direct the anime at Gonzo (Rosario + Vampire, Dog & Scissors) with series composition by Michiko Yokote (.hack//GIFT, Yamada-kun to 7-nin no Majo). Masakatsu Sasaki is designing the characters, and Yukari Hashimoto (Toradora!, Yuri Kuma Arashi) will compose the music.
The meta tags in the anime's official website's source had briefly listed the voice actresses Marika Kōno (Rin Kohana), Rie Takahashi (Futaba Ichinose), and Yuki Nagaku (Ichigo Moesaki) as keywords in January, but no longer does. Kōno retweeted the mention of her name in the source and noted that it will be her first series regular role, but then she removed her Twitter post.
Hata's Hayate the Combat Butler manga already inspired the first Hayate the Combat Butler television anime (2007-2008) and its Hayate the Combat Butler!! follow-up (2009). The Hayate the Combat Butler: Can't Take My Eyes Off You (Hayate no Gotoku! Can't Take My Eyes Off You) television anime aired in 2012, and the Hayate the Combat Butler! Cuties television anime aired last year. The manga also inspired an anime film and two OVAs. Viz Media is releasing the manga in North America.
Asano herself voiced the character of Risa Asakaze in the various anime adaptations of the Hayate the Combat Butler manga. Asano has worked on other various manga such as Partner, Hiyoko no Arukikata, and Uru wa Sorairo Majo. Her voice acting credits include Ikki Tousen's Hakufu Sonsaku, Blood-C's Yūka Amino, and The Pet Girl of Sakurasou's Ayano Iida, Yumeria's Mizuki Agatsuma, Zettai Karen Children's Oboro Kashiwagi, and the .hack// franchise's BlackRose, among many others.
---