News

2nd Ace Attorney Stage Play Unveils Cast in Costume

posted on by Rafael Antonio Pineda
Play based on 2nd game in series opened last Wednesday
---
The staff for the upcoming Gyakuten Saiban 2: Saraba Gyakuten (Turnabout Trial 2: Farewell, My Turnabout) stage play unveiled photographs of the cast in costume on Tuesday.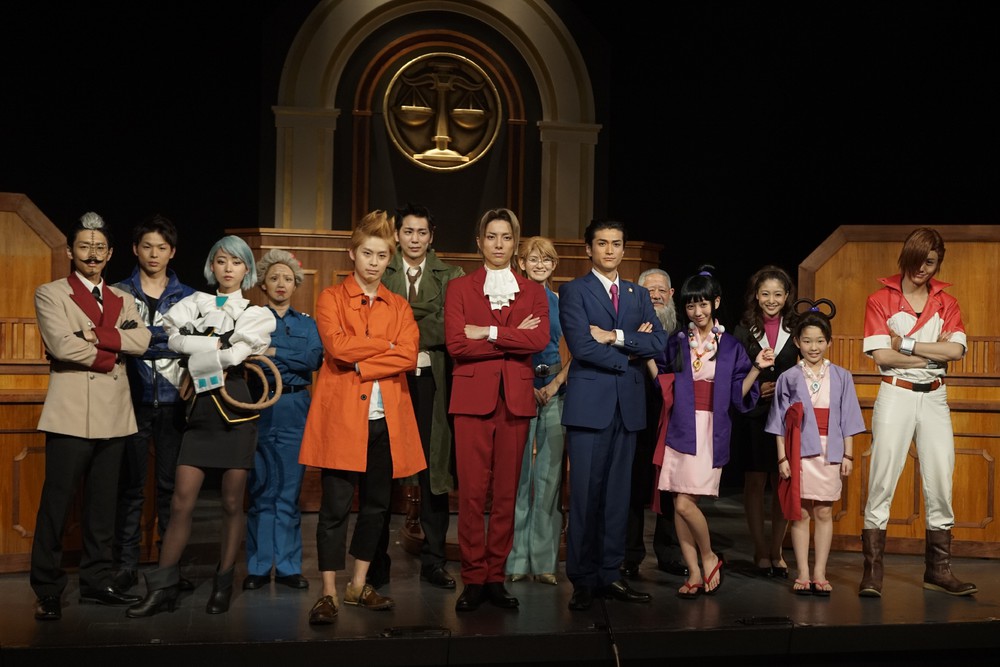 The stage play stars:

Daisuke Watanabe as Ryūichi Naruhodō (Phoenix Wright)


Takuma Wada as Mitsurugi Reiji (Miles Edgeworth)



Karin Ogino as Mayoi Ayasato (Maya Fey)
(Hikari Shiina as understudy)



Akihiro Hayashi as Masashi Yahari (Larry Butz)



Ryūko Isogai as Keisuke Itonokogiri (Dick Gumshoe)



Shō Tomita as Sazaemon Koroshiya (Shelly de Killer)



Seren Kusunoki as Mei Karuma (Franziska von Karma)
(Arisa Fujisaki as understudy)



Mikako Ishii as Kirio Kamiya (Adrian Andrews)



Yui Koike as Yurie Amano (Celeste Inpax)



Megumi Kuge as Kaoru Ōba (Wendy Oldbag)



Shiyū Urushibara as Harumi Ayasato (Pearl Fey)
(Yūna Takano as understudy)



Ryōsuke Katō as Isao Fujimino (Juan Corrida)



Bunmei Tobayama as The Judge



Motohiro Ōta as Shingō Ōtorō (Matt Engarde)

Takuma Wada, Karin Ogino, Akihiro Hayashi, and Ryūko Isogai all reprise their roles from the first Gyakuten Saiban stage play. The first stage play premiered in Tokyo on July 31, 2013.
The new play is based on the second game in the Gyakuten Saiban series, Gyakuten Saiban 2 (released in North America as Phoenix Wright: Ace Attorney - Justice For All); mainly its fourth episode. In the episode's original story, a television show actor is murdered at a hotel, while a man who calls himself De Killer kidnaps Maya and demands the acquittal of the murder suspect in exchange for Maya's freedom.
The Phoenix Wright games put players in the role of Phoenix Wright, and tasks them with solving cases and winning court trials by presenting evidence and cross-examining witnesses.
The play opened last Wednesday at the Haiyu-za Gekijo in Roppongi, Tokyo, and will continue to run every day until May 10.
[Via 4gamer]
---