News

One Piece Kabuki Play's Lead Actor Plays Luffy, Hancock, & Shanks

posted on by Rafael Antonio Pineda
---
The staff of the previously announced kabuki stage play inspired by Eiichiro Oda's One Piece manga announced the play's cast in an event on Tuesday. The staff also revealed a photograph of lead actor Ichikawa Ennosuke IV in costume as Luffy.

The kabuki stage play's full cast is as follows:
Ichikawa Ennosuke IV as Luffy, Hancock, Shanks
Ichikawa Ukon as Whitebeard
Bandō Minosuke II as Zoro, Bentham, Squard
Nakamura Hayato as Sanji, Inazuma
Ichikawa Shunen II as Nami, Sandersonia
Ichikawa Kōtarō as Hatchan, Sentomaru
Ichikawa Juen as Avalo Pizarro
Ichikawa Emisaburō as Nyon
Ichikawa Enya II as Jinbei, Blackbeard (Teach)
Ichikawa Emiya II as Nico Robin, Marigold
Ichikawa Omezō VI as Magellan
Ichikawa Monnosuke VIII as Tsuru
Seiji Fukushi as Ace
Noritoshi Kashima as Brook, "Akainu" Sakazuki
Kazuyuki Asano as Rayleigh, Ivankov, Sengoku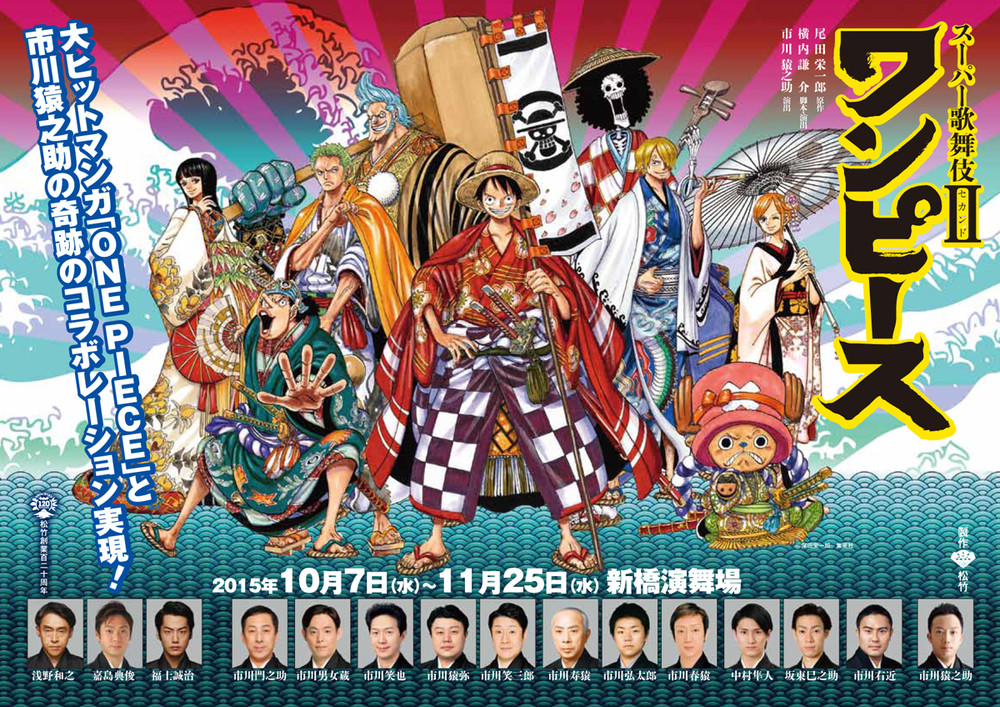 The play will adapt volumes 51-60 of the manga, a portion of the story known as the "Paramount War Saga." In the story, Luffy attempts to find his brother Ace and save him from execution, while a war erupts between the World Government and the Whitebeard Pirates.
Ichikawa IV said that the creators would "like to approach the script from the eyes of someone who is not familiar with the story, while also not discounting the audience who have already read it. It would best if we could make a story that was fun even for people who haven't read it." He added that "kabuki has never shied away from not showing the beginning and ending of a story and only portraying one side of it. So I think a long story like One Piece is a perfect fit for adaptation to the stage."
The play will run from October 7 to November 25 at the Shinbashi Enbujō in Ginza, Tokyo. Tickets for the October shows will go on sale starting August 20, while tickets for the November shows will go on sale on September 20.
The play is one play in the Super Kabuki-gi II set of plays featuring Ichikawa IV as the lead.
Source: Comic Natalie
Update: Ichikawa IV's comments correctly attributed. Thanks, hyojodoji
---