×
remind me tomorrow
remind me next week
never remind me
Subscribe to the ANN Newsletter • Wake up every Sunday to a curated list of ANN's most interesting posts of the week.
read more
News

4th Persona 3 Film Unveils New Trailer, Key Visual, Escape Game

posted on by Egan Loo
Final film in series will open on January 23 in Japan
---
The official website for the Persona 3 film series updated on Saturday with a new key visual and promotional video for the fourth and final film, Persona 3 the Movie #4 Winter of Rebirth. It also announced a tie-in immersive escape game.
Ryoji: The arcana showed fate and the existence of a cruel destiny that continues to revolve together with time.
Yukari: You're kidding, right? Ryoji's a Shadow...?
Ryoji: It erased everything then.
Akihiko: Erased? What did?
Ryoji: The destruction.
Junpei: Dammit...!
Akihiko: Looks like we have to do this!
Ryoji: It's too bad, but you are unable to touch me.
Fūka: This is...! Run away!!
Yukari: So it's true? People, animals... They'll all die?
Mitsuru: The separated Shadows awakened and began to move because he returned.
Akihiko: How are we supposed to fight something like that!? Just what can we do!?
Junpei: ...Sorry... That I said it like it was your fault that time.
Aegis: I don't want to see you all in fear and in pain!
Makoto: Tell me... Ryoji... RYOJI MOCHIZUKI!!
Ryoji: The next spring won't come in this world anymore.
Fūka: MAKOTO!!
Fūka: The moon is...!
Yukari: What... Is that...?
Aegis: It will fall... At any moment...
Makoto: I won't let you end it. That's why I'm going to fight!
Elizabeth: As you are now, you might be able to find the answer to your life.
Makoto's Mother: Live...
Aegis: I still want to be by your side.
Takaya: I won't let anyone go past here.
Junpei: Go, Makoto! Leave your back to us!!
Makoto: I think I was able to start living because of the time I spent with my friends.
Aegis: You remember the promise, right!?
You have to... You have to come back, no matter what!!


The tagline in the visual above reads, "The Shadow Time, ends…."
The film will premiere in Japan on January 23, 2016. The third batch of advance tickets with the visual above are going on sale on Saturday with a matching B2-size poster. In addition, the Tokyo JOYPOLIS complex is hosting Gekijō-ban Persona 3 ~Kage Jikan kara Dasshutsu~ (Persona 3 the Movie: Escape From Shadow Time), an immersive escape game (pictured below) inspired by the film series, from January 30 to March 13.

The website lists the story of the final film:
"The time of destruction is coming ever closer without a doubt. It cannot be stopped."

To know death, to gaze at death, to face death.

Makoto and his allies have grown through the many meetings and partings they have experienced.

Their fight might not be for the sake of the world, but for themselves. Even so, they have continued to fight, believing that there are peaceful days waiting at the end of the battle.

However, a boy says that destruction is the fate that humanity must shoulder. The boy they believed to be their friend tells them the truth of the situation without an emotion on his face.

The season changes to winter. Makoto makes a decision in order to greet the spring that is waiting beyond....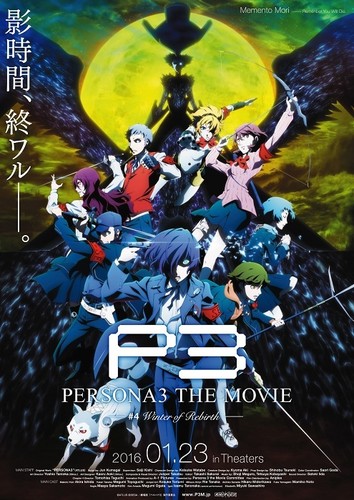 Tomohisa Taguchi (Persona 3 the Movie #2 Midsummer Knight's Dream, Persona 4 the Golden Animation) takes over as director for the fourth film, and Seiji Kishi returns as a supervisor. Zenou Tanioka of Bihou, Inc. returns as art director from the second film, after Toshihiro Kohama served in that role for the third film. Junpei Takatsu is the composite and visual director.
The rest of the returning staff at A-1 Pictures include:
Scripts: Jun Kumagai
Character Design: Keisuke Watabe
Persona Design: Kyouma Aki
Prop Design: Shinobu Tsuneki
Color Coordination: Saori Goda
Art design: Kaoru Aoki (Bihou)
Editing: Takashi Sakurai
Music: Shoji Meguro, Tetsuya Kobayashi
Sound Director: Satoki Iida
Action Director: Ryō Tanaka

Aniplex of America released the first film in May 2014, followed by the second film on March 11. The third film will ship on January 20, 2016.
Thanks to Dennis R and Kagayaki for the embedded video.
---