News

Bungo Stray Dogs Anime's 2nd Video, April 6 Debut, Split-Season Plans Revealed

posted on

2016-03-01

00:05 EST
Episode 13 onward will premiere in October
---
The official website for the television anime of Kafka Asagiri and Sango Harukawa's Bungō Stray Dogs manga began streaming the second promotional video on Tuesday. The video features the opening theme song "Trash Candy" by Granrodeo.
Atsushi: I've lived my whole life being thrown away... Not being allowed to cry, not being recognized by anyone, and without a place to belong...
Osamu: Wake up, young man!
Text: The night before the Yokohama Supernatural Power War
Osamu: Are you the one who got in the way of my suicide by drowning?
Text: A boy with no means of living
Atsushi: Huh!? Suicide by drowning!?
Text: A man who seeks a place to die
Osamu: Didn't you know? It's killing yourself through drowning.
Text: When they met each other...
Text: The story that marked the start of a new era began.
Atsushi: AHHHH! I'm sorry!!
Rampo: You really are stupid.
Naomi: Are you OK~?
Kenji: How boring.
Doppo: I'll be testing your soul.
Text: These are the graceful deeds of the beautiful weird ones.
Atsushi: Come to think of it, what do you do for work?
Osama: Meh, nothing much. Just a detective.
Doppo: I'll teach you one thing about living in this town: Don't meet this guy. If you do, run.
Text: The worth of one's life is tested
Osamu: There are quite a few people with supernatural powers in this world. As many as there are those who succeed with those powers, there are just as many who fall to ruin because of them.
Atsushi: Something I can do...?
Text: Is his power for himself? Or for others?
Ryunosuke: Fear death. Fear killing.
Text: There are abnormalities
Chuya: This is the best view!
Text: The curtain on the bizarre tale…
Text: …Rises.
Text: Those who control the depth of darkness in hearts
Text: Literary master, supernatural power-user

The website also announced that the anime will premiere on Tokyo MX and other stations on April 6 at 25:05 (effectively, April 7 at 1:05 a.m.) After this spring, the series will resume in October with episode 13 onward.

The "battle action" story centers around a league of literary figures with supernatural powers. For example, in real life, Ryūnosuke Akutagawa wrote acclaimed stories that inspired Akira Kurosawa's Rashōmon film and the Aoi Bungaku Series anime's Jigoku Hen (Hell Screen) arc. In Bungō Stray Dogs, he has the power to transform and manipulate his cloak into a monster-like entity. Together, these writers solve mysteries as part of the "Armed Detective Agency."
The series mainly features Japanese authors such as Rampo Edogawa, Kenji Miyazawa, Osamu Dazai, Atsushi Nakajima, Doppo Kunikida, and Akiko Yoshino. The series has also featured contemporary Japanese authors such as Yukito Ayatsuji (Another novel/manga/anime/live-action film, Tsukidate no Satsujin) and Natsuhiko Kyogoku (Requiem from the Darkness, Mōryō no Hako, Tōfu Kozō, Loups-Garous), as well as overseas authors such as Fyodor Dostoyevsky, Agatha Christie, and Dan Brown.
The cast includes: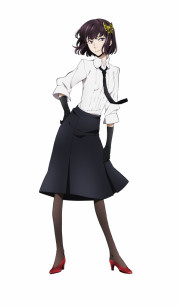 Yu Shimamura (Attack on Titan's Annie Leonhardt) as Akiko Yosano, a modern woman with a bob cut who's a member of the Armed Detective Agency. Although she's an excellent doctor who is indispensable to the Agency, all members of the the Agency are scared to be placed into her care. It's recommended that you don't use outdated misogynistic expressions in front of her.


Chiaki Omigawa (Soul Eater's Maka Albarn) as Naomi Tanizaki, a beautiful young girl in a sailor suit who lets her long black hair hang down. (Naomi is the name of the title character in a famous novel by the real Junichirō Tanizaki.)


Rikiya Koyama (Fate/Zero's Kiritsugu Emiya) as Yukichi Fukuzawa, the president of the Armed Detective Agency, who manages the hooligans. Although he doesn't often come out, at a critical moment, he triumphantly takes command. Because Yukichi is a man of dignity and status, it seems even the frivolous Ranpo will actually work if he orders it.
Takuya Igarashi and Yoji Enokido, the director and screenwriter team behind Ouran High School Host Club and Star Driver, are helming the anime at Studio BONES. Nobuhiro Arai (Chaika - The Coffin Princess) is handling character design and is serving as chief animation director alongside Hiroki Kanno (Blast of Tempest). Ryō Hirata is handling prop design and sub character design, while Fumihiro Katagai (Chaika - The Coffin Princess) is in charge of gun design. Taku Iwasaki (Gatchaman Crowds, Black Butler) is composing the music and Kazuhiro Wakabayashi (Ghost in the Shell, Blue Exorcist) is serving as sound director at Glovision.
GRANRODEO is performing the series' opening theme song. Luck Life is performing the series' ending theme song "Namae o Yobu yo" (Call My Name).
Update: Typo fixed. Thanks, thenextday
---