×
remind me tomorrow
remind me next week
never remind me
Subscribe to the ANN Newsletter • Wake up every Sunday to a curated list of ANN's most interesting posts of the week.
read more
News

Crunchyroll Adds Piacevole Manga, Wagamama High Spec, Usakame Anime

posted on by Jennifer Sherman
---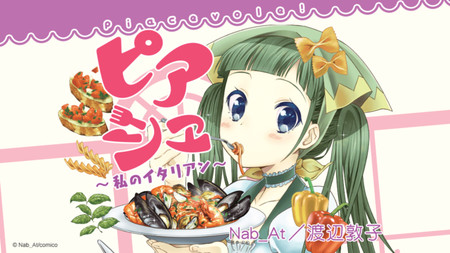 Crunchyroll announced on Friday that it has licensed Atsuko Watanabe's Piacevole manga series. The media distribution service also announced that it will stream the Wagamama High Spec, Usakame, and RIN-NE 2 television anime.
The first volume of Piacevole is now available for Crunchyroll members worldwide. Crunchyroll is collaborating with the free manga app Comico to release the series. The story follows the high school girl Morina Nanase who works at the Italian restaurant Trattoria Festa. She meets various people and matures through the restaurant's dishes.
Watanabe (Heavy Object, Hanayamata character designer) began the Piacevole manga in the Comico app in 2013. Taibundou released the first compiled book volume last September.

The television anime of Madosoft's Wagamama High Spec PC game will premiere on Crunchyroll on April 11 at 1:30 p.m. EDT. The series will be available for members worldwide, except those in Japan, mainland China, Hong Kong, Macau and Taiwan.
The visual novel's story revolves around Kōki Narumi, a high school student who also draws a manga serialized in a weekly magazine. Because the manga he draws is a risqué romantic comedy, he keeps this fact a secret from everyone around him, with his younger sister Toa and his best friend Mihiro being the only ones who know.
But one day, as the student council president Kaoruko Rokuonji is searching for male members for the student council, she finds out that Kōki is the manga's author. Kōki joins the student council in exchange for Kaoruko not revealing his secret. However, the vice president Ashe R. Sakuragi strongly opposes him joining, and in the midst of all this, various requests and troubles of students begin to pile up.
Satoshi Shimizu (episode director for Fairy Tail, Mushi-Shi) is directing the five-minute episodes at studio AXsiZ. Koujirou Nakamura (Maji de Otaku na English! Ribbon-chan: Eigo de Tatakau Mahō Shōjo) is handling series composition and Masashi Nomura is designing the characters. The anime stars Mariko Honda as Kaoruko Rokuonji, Megu Sakuragawa as Ashe R Sakuragi, Mai Goto as Toa Narumi, and Chiyo Ousaki as Mihiro Miyase.
The anime will premiere on Tokyo MX on April 11 at 25:10 (effectively 1:10 a.m. on April 12). Madosoft's PC game will ship in Japan on April 28. Sekai Project plans to release the game in English this year.

Crunchyroll will begin streaming the television anime for Roots and Jūzō Kirisawa's Teekyū spinoff manga Usakame on April 11 at 1:30 p.m. EDT. The series will be available in the United States, Canada, Latin America (Central and South America, including the Caribbean), the United Kingdom, Ireland, South Africa, Australia, New Zealand, Denmark, Finland, Netherlands, Norway, and Sweden.
Shin Itagaki, the director of all the Teekyū anime adaptations, will return to direct Usakame. Millepensee will return to animate the series. Roots and Kirisawa launched the manga in Earth Star Entertainment's Comic Earth Star last September as a spinoff of Roots' own Teekyū manga. Earth Star Entertainment published the manga's second compiled book volume on March 12. The characters of Usakame initially appeared in the Teekyū manga as opponents of the main characters in the national team tournament.
The anime will premiere on April 11 on Tokyo MX at 25:05 (effectively 1:05 a.m. on April 12).

RIN-NE 2, the second anime season based on Rumiko Takahashi's RIN-NE (Kyōkai no Rinne) manga, will premiere on Crunchyroll on April 9 at 7:00 a.m. EDT. The series will be available in the United States, Canada, Australia, New Zealand, and Latin America.
Crunchyroll describes the story:
Penniless half-human, half-shinigami-kind-of-thing RIN-NE Rokudo manages to scrape together just enough money to survive as he continues his work, leading lost spirits to the Wheel of Reincarnation. Aided by the forever blunt Sakura Mamiya and an entourage of ridiculous "friends," RIN-NE has his work cut out for him as he encounters new allies and enemies, while still dealing with his nearly crippling poverty!
Sentai Filmworks announced in March that it had licensed the series. The Anime Network is also streaming the anime as it airs in Japan.
The first television anime season premiered in Japan in April 2015. Crunchyroll streamed the series as it aired in Japan. Sentai Filmworks licensed the series for release in North America.
The second series will debut on NHK's E-tele channel on April 9 at 5:30 p.m.

Crunchyroll added the English dub of the Blue Exorcist anime for users in the United States and Canada. All episodes are now streaming.
The story focuses on Rin Okumura, a boy raised by a famous exorcist named Father Fujimoto. After an argument between the two, Rin discovers he is the son of Satan. Rin decides to fight his fate by joining the True Cross Academy to become an exorcist and defeat demons. However, when he draws his father's sword, it releases a dark power within him.
Crunchyroll began streaming English-subtitled episodes of the series when it premiered in Japan in 2011. Aniplex of America also streamed Blue Exorcist with English subtitles and then released the anime on DVD and Blu-ray Disc in North America. Viz Media's Neon Alley service began streaming the English dub in 2012.

Crunchyroll announced on Wednesday that it will begin streaming the Hai-Furi television anime on April 9 at 12:30 p.m. The series will be available to members in North America, Central America, South America, UK, Ireland, Australia, and New Zealand.
Aniplex of America announced in March that it had licensed the series. The company describes the story:
Living by the sea, protecting the sea, and journeying across the sea...They're the BLUE MERMAIDS! Because of a shift in tectonic plates around 100 years ago, Japan lost much of its area to submergence. To preserve Japan's territories, Coastal Cities sprung up, one after the other. Eventually, they became Marine Cities, and along with the expansion of sea-lanes to connect them, the need arose for a sizable staff to protect the seas. At the same time, maritime jobs were becoming more popular among women. Hence, the BLUE MERMAIDS, tasked with keeping the seas safe, had become every female student's dream job. This is when childhood friends Akeno Misaki and Moeka China enroll in a marine high school in Yokosuka, along with other girls who share their goal of "BECOMING A BLUE MERMAID."
Yuu Nobuta (Code Geass: Lelouch of the Rebellion R2, Blade & Soul episode director) is directing the series at Production IMS. Reiko Yoshida (Non Non Biyori, K-ON!, Yowamushi Pedal) is handling series composition, and Atto (Non Non Biyori) is drawing more than 30 original character designs for the series. Naoto Nakamura (A Certain Scientific Railgun, Haganai) is serving as the character designer and chief animation director. Takaaki Suzuki (Girls und Panzer, Strike Witches, Upotte!! military history adviser) is credited with the original work for the series. Graphinica is credited for the show's CG graphics, photography, and editing.
The anime will premiere on BS11 and Tokyo MX on April 9 at 24:00 (effectively 12:00 a.m. on April 10).
---