News

Live-Action One Week Friends Film's Trailer Previews Sukima Switch Song

posted on by Rafael Antonio Pineda
---
The official website of the live-action film of Matcha Hazuki's One Week Friends (Isshūkan Friends.) manga began streaming a trailer for the film on Wednesday. The trailer features the film's theme song "Kanade for Isshūkan Friends," by Sukima Switch.
"Kanade for Isshūkan Friends" is a new version of Sukima Switch's second single "Kanade," which shipped in 2004. The song features re-recorded instrumentation and vocals. The 2014 One Week Friends television anime adaptation featured a cover of the song as the ending theme by singer and voice actress Sora Amamiya, who also played the role of Kaori Fujimiya in the anime.
The story of the manga revolves around Yūki, a boy who wants to become friends with his classmate and desk neighbor Kaori. However, she gently declines his friendship, saying, "But, my... memories of my friends disappear in a week..." Even so, Yūki wants to become her friend, and so the two become friends over and over again as the weeks pass.
Haruna Kawaguchi (Ouran High School Host Club, Say "I love you".) and Kento Yamazaki (Orange, Death Note, Your Lie in April) will play Kaori Fujimiya (seen left in photo below) and Yūki Hase (right), respectively.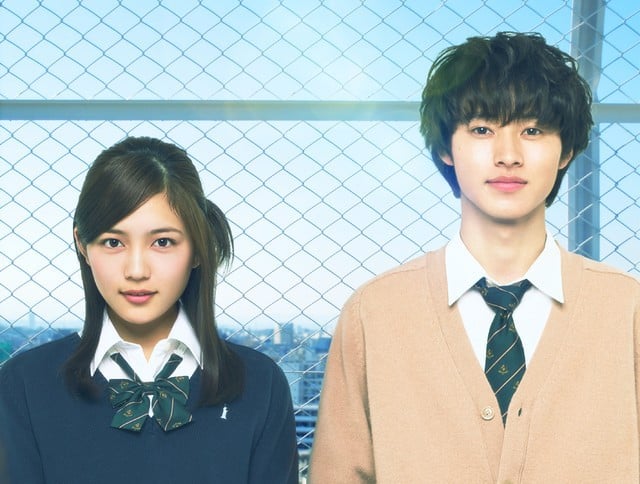 The additional cast includes (clockwise from upper left):
Shūhei Uesugi as Hajime Kujō, a transfer student who knows Kaori's past
Haori Takahashi as Saki Yamagishi, Kaori and Yūki's classmate and Yūki's childhood friend
Shigeyuki Totsugi as Jun Inoue, the homeroom teacher of Kaori and Yūki's class
Masahiro Komoto as Takayuki, Kaori's father
Seika Furuhata as Mayu Kondō, an original character for the film who is Kaori's friend from junior high
Sayuri Kokusho as Shiho Fujimiya, Kaori's mother

Chōtokkyū band vocalist Takashi Matsuo additionally plays Shōgo Kiryū. Shōgo is the close friend of the male lead character Yūki Hase. Other cast members include Sairi Itō, Keisuke Okada, and Ryō Iwase in as-yet unspecified roles.
The film opens in Japan on February 18, 2017. Shōsuke Murakami (live-action Barefoot Gen, Water Boys, Akai Ito) is directing the film, while Yōko Izumisawa (Garo -Goldstorm- Shō) wrote the script.
Hazuki began the manga in 2012, and ended it in January 2015. Hazuki drew a special chapter for the manga in April 2015. Square Enix published the manga's seventh and final compiled book volume in April 2015.
Crunchyroll streamed the anime adaptation as it aired in Japan, and Sentai Filmworks has released the anime on home video in North America.
Source: Comic Natalie
---