News

Kirakira Precure a la Mode Anime Adds 4 More Cast Members

posted on by Rafael Antonio Pineda
---
Toei Animation's website for the Kirakira ☆ Precure a la Mode anime announced four new cast members on Monday. The new cast and characters are:
Yuu Mizushima
as Chōrō, an old fairy living in Strawberry Mountain. He teaches pupils how to make sweets. Ever since a cream explosion, he has the transparent body of an apparition.

Kenjiro Tsuda
as Genichirō Usami, Ichika's father. He is a karate practitioner who worries that he can't read women his age.

Yuriko Yamaguchi
as Satomi Usami, Ichika's mother. She is a doctor who goes to small towns and villages around the world. She often made sweets for Ichika.

Yūji Ueda
as the Gamii, fairies who seek power and want to steal "kirakiraru," star-shaped sweets filled with energy. When they absorb it, they change into big monsters. Their favorite food is kirakiraru in cakes.

Previously announced cast members include:
Karen Miyama
as Cure Whip/Ichika Usami, who has a rabbit motif and enjoys shortcake

Haruka Fukuhara
as Cure Custard/Himari Arisugawa, who has a squirrel motif and enjoys pudding

Tomo Muranaka
as Cure Gelato/Aoi Tategami, who has a lion motif and enjoys ice cream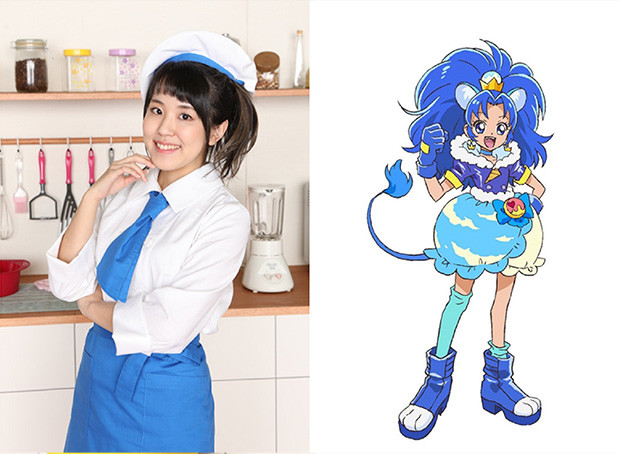 Saki Fujita
as Cure Macaron/Yukari Kotozume, who has a cat motif and enjoys macarons

Nanako Mori
as Cure
Chocolat
/Akira Kenjō, who has a dog motif and enjoys chocolate

Mika Kanai
as Pekorin, a plump fairy who loves sweets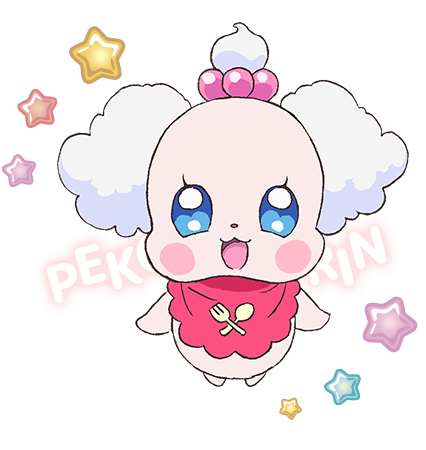 Toei Animation posted a "A Message for Passing the Baton from Cure Miracle to Cure Whip" video on Saturday and a story introduction trailer earlier this month.
The anime, which is the 14th entry in the Precure animated series, will premiere on February 5 at 8:30 a.m. on the ABC and TV Asahi channels and their affiliates. The show's theme is a crossover of colorful sweets with cool and cute animals. The main characters run a sweet shop and must face off against evil fairies to protect their beloved confections.

Akira Tanaka, Risa Endō, and Yu Kaminoki (Go! Princess Precure, Pretty Guardian Sailor Moon Crystal) are producing the series. Kōhei Kureta (One Piece Film Z assistant director) and Yukio Kaizawa (Digimon Frontier, Jigoku Sensei Nube director) are the series directors, and Jin Tanaka (Go! Princess Precure, Anne-Happy) is handling the series composition. Yuuki Hayashi (My Hero Academia, Death Parade) is composing the music, and Marie Ino (Death Note, Heartcatch Precure! key animator) is designing the characters. Cake designer and café owner Junko Fukuda is serving as the "sweets supervisor" for the series.

Yuri Komagata (Mangirl!) is performing the anime's opening theme song "SHINE!! Kirakira ☆ Precure a la Mode," and Kanako Miyamoto (Yes! Precure 5) is performing the ending theme song "Let's La Cooking ☆ Showtime."
Kodansha's Nakayoshi magazine will launch the Kirakira ☆ Precure a la Mode manga series in its March issue, which ships on February 3. Manga artist duo Futago Kamikita (Pretty Cure, Dokidoki! Precure) is drawing the series based on an original concept by Izumi Todo (the collective pseudonym for Toei Animation's staff).
The previous Precure (Pretty Cure) series, Mahō Tsukai Precure!, premiered in February 2016. The Eiga Mahō Tsukai Precure! Kiseki no Henshin! Cure Mofurun! film opened in October in Japan.
The 2012-2013 Precure anime series Smile Precure! has been localized in English as Glitter Force, and is available streaming on Netflix.
Source: MoCa News
---