News

Asahinagu Sports Manga Gets Stage Play, Film Starring Nogizaka46 Idols

posted on by Karen Ressler
Play opens in May, film with different cast slated for fall
---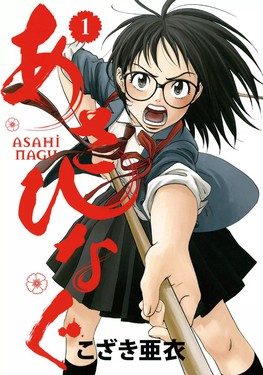 Toho opened a website revealing a stage play and a film based on Ai Kozaki's Asahinagu sports manga on Wednesday. Both the play and the film will star members of idol group Nogizaka46, though the cast will be different for each version.
Asuka Saitō will star in the play as Asahi Tōjima. Other cast members include:
Sayuri Inoue as Shōko Yasomura
Mai Shin'uchi as Sakura Konno
Yumi Wakatsuki as Maharu Miyaji
Rina Ikoma as Eri Nogami
Miona Hori as Nene Ichidō
Misa Etō as Jun Sagae
Hinako Kitano as Tsugumi Matobayashi
Kō Nanase as Natsuyuki Miyaji
Totomi Ooto as Takuma Mori
Naomi Shimotsukasa as Fumino Ookura
Mio Shirase as Ikurin
Kirara Oyama as Eiko Misu
Mano Hagiwara as Makoto Andō
Kazuaki Ishii as Kobayashi Sensei
Ami Norimatsu as Yasuko Fukutomi
Tsubasa Makoto as Jukei
The stage play will run from May 20-31 in Tokyo's EX Theater Roppongi, and then run in Osaka from June 2-5 and Nagoya from June 9-11. Kyōichi Itagaki is directing and writing the script.
Unlike the play, the film will star Nanase Nishino as Asahi Tōjima, and the rest of the film's cast will be announced at a later date. Tsutomu Hanabusa is directing. The film will open this fall.
Shogakukan's Big Comic Spirits magazine announced on Monday that the manga will have an important announcement on February 27.
The manga centers on Asahi Tōjima, a first-year high school student at Futatsuzaka High School. She had been in the art club throughout middle school, but begins training with the naginata (Japanese halberd), saying that even people without talent in sports one day can shine in the nationals the next. Along with her beloved upperclassman Maharu Miyaji, her classmate with experience in kendo Shōko Yasomura, and a girl who has worries about her height named Sakura Konno, Asahi forms a new group of "Naginata Girls."
The manga won the Best General Manga award at the 60th Shogakukan Awards in 2015.
Kozaki, the younger sister of Fire Emblem: Awakening and No More Heroes character designer Yūsuke Kozaki, launched the manga in Big Comic Spirits in 2011. Shogakukan published the manga's 21st compiled book volume in November and will publish the 22nd volume on February 28.
---