×
remind me tomorrow
remind me next week
never remind me
Subscribe to the ANN Newsletter • Wake up every Sunday to a curated list of ANN's most interesting posts of the week.
read more
News

Yo-kai Watch, Be Blues Win 60th Shogakukan Awards

posted on by Sarah Nelkin
---
The judging committee of the 60th Shogakukan Manga Awards announced this year's winners on Wednesday. Each winning title will be honored with a bronze statuette and a prize of 1 million yen (about US$8,520). Shogakukan itself publishes all five of the winners.
Best Children's Manga

Yōkai Watch
Noriyuki Konishi
Serialized in Coro Coro Comic (Shogakukan)
The story begins when Kēta discovers an old capsule toy vending machine in the forest. Kēta receives a mysterious watch and meets a ghost butler named Whisper. Whisper tells Kēta that the watch allows him to see supernatural creatures — both good and evil — that he could not see before in everyday life. With Whisper and his other companion Jibanyan, Kēta explores his town for other ghosts to battle and befriend.
The Level-5
franchise
also
has
a television anime, a film, and a game, with a game sequel
shipping
last month.
Best Shōnen Manga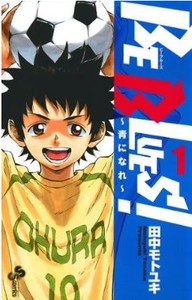 Be Blues! - Ao ni Nare
(BE BLUES! ~Become Blue~)
Motoyuki Tanaka
Serialized in
Weekly Shonen Sunday
(Shogakukan)
The story follows Ryū Ichijō, a young boy who dreams of becoming Japan's representitive of soccer. Along with his friends, the twin brothers Yūto and Yuki, he first aims to win at the little league national competition.. The manga begins with little league soccer, and progresses into the high school version of the sport.
Best Shōjo Manga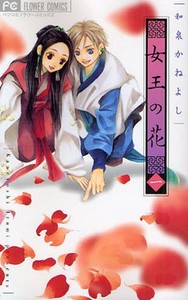 Joō no Hana
(The Queen's Flower)
Kaneyoshi Izumi
Serialized in
Betsucomi
(Shogakukan)
The story of the historical fantasy manga revolves around
aki
, the princess of Akoku who is treated coldly despite her status. Since she was young, she acted bright and cheerful while taking care of her mother. One day, she meets a boy with hair like gold and eyes like the heavenly skies, Hakusei. Overcoming their differences in status, they form a strong bond. However, dangers await them.
Best General Manga

Asahinagu
Ai Kozaki
Serialized in
Big Comic Spirits
(Shogakukan)
The story revolves around Asahi Tōjima, a first-year in high school. She had been in the art club throughout middle school, but begins training with the naginata (Japanese halberd), saying that even people without talent in sports one day can shine in the nationals the next. Along with her beloved upperclassman Maharu Miyaji, her classmate with experience in kendo Shōko Yasomura, and Sakura Konno, a girl who has worries about her height, she forms a new group of "Naginata Girls."
Best General Manga

Aoi Honō
(Blue Flames)
Kazuhiko Shimamoto
Serialized in
Gessan
(Shogakukan)
The story of the manga takes place in the early 1980's. A male student at the
Osaka University
of Arts named Honō (literally 'flame') aims to become a manga artist while taking lectures on TV, movies, and anime. However, this is just a dream, and Honoo does not even know the first step to becoming one. One day, while he was reading Shonen Sunday on a whim, he happens to read the works of
Mitsuru Adachi
(
Cross Game
,
Touch
) and
Rumiko Takahashi
(
Ranma 1/2
,
Inu Yasha
), who were still new in the manga creation world and were not known by many.
Shogakukan has been awarding this prize since 1956 (for works published in 1955). Recent winners have included Yumi Hotta and Takeshi Obata's Hikaru no Go (2000), Rumiko Takahashi's Inu Yasha (2002), Naoki Urasawa's 20th Century Boys (2003), Mine Yoshizaki's Keroro Gunsō (2005), Kotomi Aoki's Boku no Hatsukoi o Kimi ni Sasagu (2008), Kanoko Sakurakoji's Black Bird (2009), and Kenta Shinohara's Sket Dance (2010). 2011's winners were Yumeiro Pâtissière, Ōoku, Ushijima the Loan Shark, and Space Brothers, 2012's winners were Inazuma Eleven, Nobunaga Concerto, Pin to Kona, and Kids on the Slope, and 2013's winners were Mysterious Joker, Silver Spoon, Piece, and I am a Hero. Last year's winners included Zekkyō Gakkyū, Magi, and Mogura no Uta.
This year's judging committee included Kiyoko Arai (Beauty Pop), Akira Oze (Hatsukoi Scandal), Fujihiko Hosono (Gallery Fake), author Mitsuyo Kakuta, Kaiji Kawaguchi, Kenshi Hirokane, and columnist Bourbon Kobayashi.
---