×
remind me tomorrow
remind me next week
never remind me
Subscribe to the ANN Newsletter • Wake up every Sunday to a curated list of ANN's most interesting posts of the week.
read more
News

Action Heroine Cheer Fruits Anime Reveals Cast, Staff, New Characters, July Debut, Video

posted on by Rafael Antonio Pineda
---
The official Twitter account and website for the upcoming original television anime Action Heroine Cheer Fruits posted the cast, main staff, five additional main characters, and July premiere date for the anime on Tuesday and Wednesday. The website also posted a video that introduced the characters, cast, and staff during the anime's live-streamed web variety show earlier on Wednesday:
The cast includes:
M.A.O
as Misaki Shirogane, a third-year high school student, born August 9. She likes travelling to "power spots" that purportedly invigorate those who visit them. She is a daughter of a prominent family in Hinano, an honors student and star athlete, and the student council president. She is a hard worker, but suffers from chronic bad luck, and consequently fails to reap the best from her efforts. People tease her as being unpopular, but her optimistic and sincere personality earns her everyone's trust.

Miku Itō
as An Akagi, a second-year student, born March 5. She likes
tokusatsu
(special-effects) works. She is the daughter of a doctor and nurse, and is a constantly absent member of her school's gymnastics club. She inherited her naive yet strong desire to help others as a hero from her parents, who both work in a hospital. She is extremely athletic and can concentrate well, which has earned her a degree of fame in gymnastics, but for some reason, she is still constantly absent from gymnastics practice.

Rie Murakawa
as
Roko
Kuroki, a third-year student, born October 14. She likes trains. She is the daughter of the local train station master. She is a close friend of Misaki, and works with her as student council vice president. She is considered very reliable. Due to her family's house being adjacent to the station, she has loved trains since childhood. She'd like to help Misaki more, but she has trouble expressing herself.

Erii Yamazaki
as Mikan Kise, a second-year student, born December 3. The daughter of a lemon-growing family, she likes reading and was a member of the cheerleading club. She promised to let her younger sister see one of her action stage events someday. She is considerate and works well with children. She has inadvertently taken responsibility or volunteered for many things before, but in her head, she regrets it.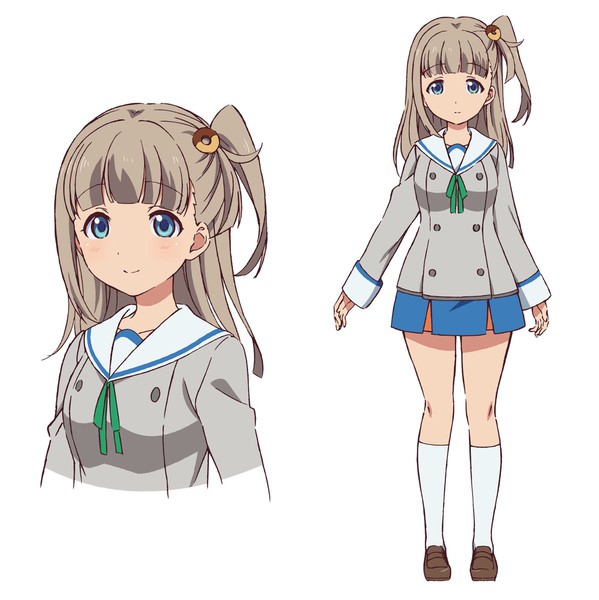 The new characters include:
Yūki Hirose
as Mana Midorikawa, a second-year student, born April 8. She likes cosplaying. She is the only child of a family that maintains a famous shrine in Hinano. She is a schemer who has even thought of letting people use the shrine as a training room and pocketing the money. Her
cosplay
hobby allows her to design outfits for heroine shows.

Haruka Ishida
as Genki Aoyama, a second-year student, born November 1. She is a beautician's daughter who likes editing videos. She is a bespectacled girl who is a member of the computer club. She once had dreams of being an idol with her sister Yūki, but abandoned them when she injured her leg in an accident. Instead, she turned her efforts toward I.T. She is Yūki's twin sister, and sometimes expresses annoyance at her.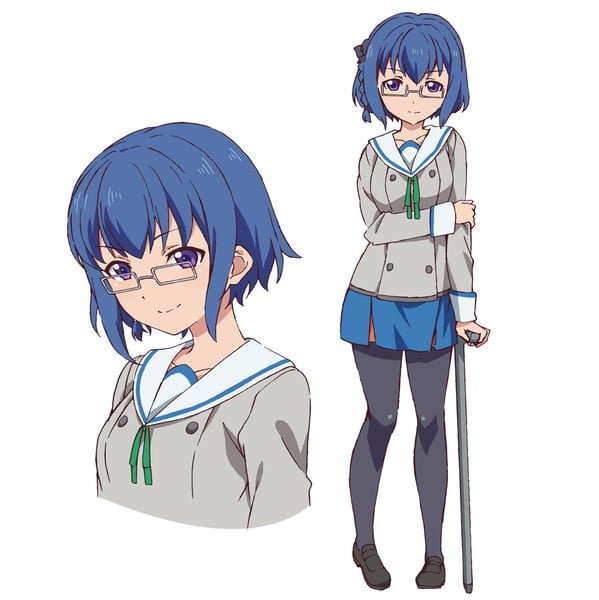 Haruka Ishida as Yūki Aoyama, a second-year student, born November 1. She likes going to karaoke by herself. She is a beautician's daughter who is a member of a famous idol group. She has returned to Hinano for a certain reason. She excels at both singing and dancing, and puts her all into practicing, but her silent personality lead people to worry about her. She is Genki's twin sister.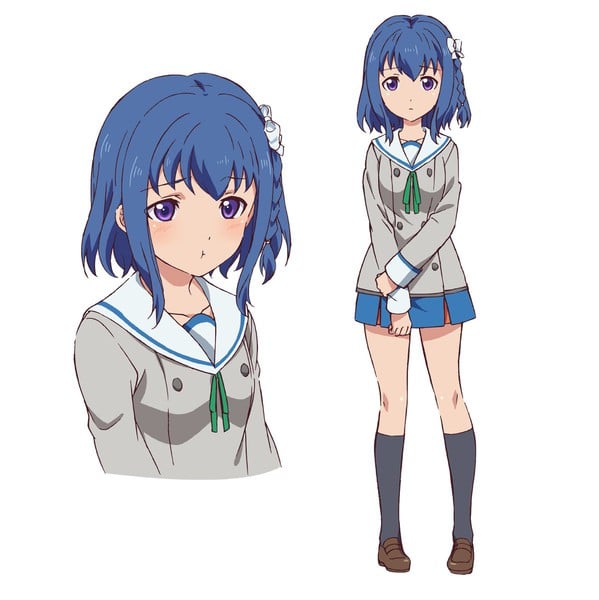 Moe Toyota
as Hatsuri Momoi, a first-year student, born September 20. She is the daughter of an owner of a construction company with deep ties to the Shirogane family. She is a member of the theater club, and her signature look is her twin-tail hair. She has been around construction sites since she was little, so her delicate and cute exterior belies her headstrong personality. She has a tendency to not look before she leaps, and to not stop once she starts with something.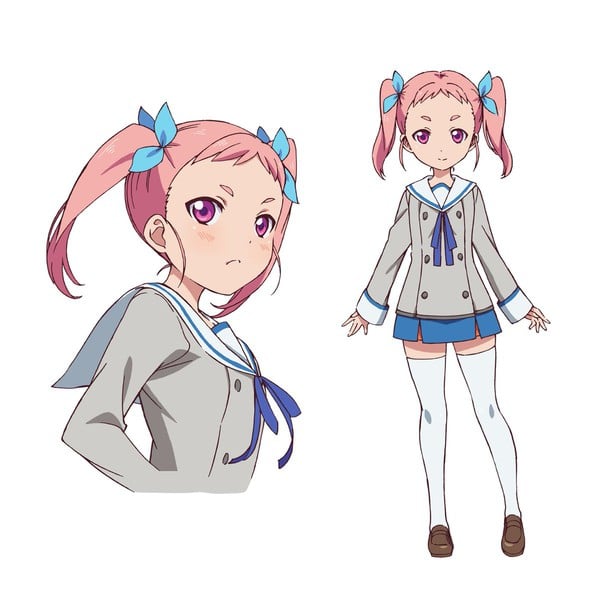 Haruka Shiraishi
as Kanon Shimura, a second-year student, born June 6. She has competed fiercely with An Akagi in prefectural gymnastics meets since middle school. She lives to knock An down a peg, and is very conscious of making that evident.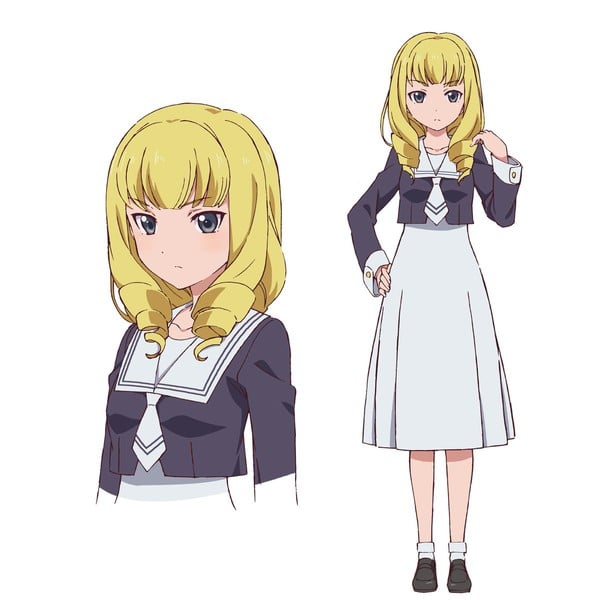 Keizou Kusakawa (Magical Girl Lyrical Nanoha The MOVIE 1st, Kan Colle) is directing the anime at the studio diomedéa. Naruhisa Arakawa (Kingdom, Twin Star Exorcists) is in charge of the series scripts, and Naomi Ide (Kan Colle, The Lost Village) is designing the characters. Nippon Columbia is producing the music.

Before the start of the anime's story, the "local heroine fighter" of a certain city became popular and a national star. Because of this, "local heroines" debuted in various other places, and their action live events became a hit trend nationally.
The anime is set in Hinano City, a tranquil area that cultivates fruits, but has lost its vitality. For the town she loves, high school girl Misaki Shirogane and other girls become local heroines (at the urging of Misaki's aunt, the prefectural governor) and vow to produce action live events. The teen story depicts their strenuous efforts to revitalize their town.
The anime has a tie-in web variety show hosted by voice actress unit "Tokimeki Kanshasai" (Heart-Throbbing Thanksgiving), which consists of voice actresses M.A.O., Rie Murakawa, Miku Itō, Haruka Ishida, Erii Yamazaki, Yūki Hirose, and Moe Toyota. The show is titled Tokimeki Kanshasai no Tokimeki Challenge, and it features news about the upcoming anime.

TBS streamed a promotional video when it announced the anime in January.
The anime will run on the TBS and BS-TBS channels.
[Via Otasuke]
---