×
remind me tomorrow
remind me next week
never remind me
Subscribe to the ANN Newsletter • Wake up every Sunday to a curated list of ANN's most interesting posts of the week.
read more
News

The Promised Neverland, After the Rain, More Win 63rd Shogakukan Manga Awards

posted on by Karen Ressler
---
The judging committee of the 63rd Shogakukan Manga Awards announced this year's winners on Monday. Each winning title will be honored with a bronze statuette and a prize of 1 million yen (about US$9,000).
Best Children's Manga

PriPri Chi-chan!!
Hiromu Shinozuka
Serialized in
Ciao
(Shogakukan)
The story revolves around a girl named Yūka, who encounters a being from the depths of the Earth named Chii-chan (a pun of chiteijin, the Japanese word for underground-dweller), and an alien named Ucchan (a pun of uchūjin or alien). The story follows their heartwarming and chaotic everyday lives together.
Shinozuka launched the manga in March 2015, and it inspired an anime adaptation last April.

Best Shōnen Manga

The Promised Neverland
Kaiu Shirai
and
Posuka Demizu
Serialized in
Weekly Shonen Jump
(
Shueisha
)
Emma
, Norman and Ray are the brightest kids at the Grace Field House orphanage. Under the care of the woman they refer to as "Mom," all the kids have enjoyed a comfortable life. Good food, clean clothes and the perfect environment to learn. One day, though, Emma and Norman uncover the dark truth of the outside world they are forbidden from seeing.
The manga launched in August 2016, and is also running in Viz Media's digital English edition of Shonen Jump. Shueisha published the seventh volume on January 4.

Best Shōjo Manga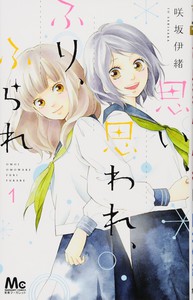 Omoi, Omoware, Furi, Furare
Io Sakisaka
Serialized in
Bessatsu Margaret
(Shueisha)
Yuna wants a love that's like a dream. Akari thinks she can become better at love and is very realistic in her approach.
KAZUOMI
doesn't understand love and wonders if it's like a tasty food. On the other hand, Rio won't reject anyone who comes his way, as long as that person is cute.
Sakisaka (Blue Spring Ride) launched the manga in June 2015. Shueisha published the seventh volume in December.

Best General Manga

Kūbo Ibuki
Kaiji Kawaguchi
Serialized in
Big Comic
(Shogakukan)
The state of world affairs is changing at a dizzying pace, particularly in the growing military strength of countries neighboring Japan. In response to a near-skirmish with China near the disputed
Senkaku
Islands, Japan builds the Ibuki aircraft carrier.
Kawaguchi (Zipang) launched the manga in collaboration with journalist Osamu Eya in December 2014. Shogakukan published the eighth volume last month.

Best General Manga

Koi wa Ameagari no You ni
(
After the Rain
)
Jun Mayuzuki
Serialized in
Weekly Big Comic Spirits
(Shogakukan)
17-year-old high school student Akira Tachibana is a girl who barely expresses herself. She harbors a secret crush on Masami Kondō, the 45-year-old manager of the family restaurant she works at part-time.
Mayuzuki launched the manga in Shogakukan's Monthly Big Comic Spirits in 2014, before it transferred to Weekly Big Comic Spirits early 2016. The ninth compiled volume shipped in November. The manga is inspiring an anime adaptation that is currently airing in Japan and streaming on Amazon Prime outside of Japan. A live-action film will premiere in May.

This year's judging committee included Kiyoko Arai (Beauty Pop), Mitsuyo Kakuta, Eiji Kazama, Kenshi Hirokane, Bourbon Kobayashi, Fujihiko Hosono, and six others.
Shogakukan has been awarding this prize since 1956 (for works published in 1955). Last year's winners, all titles published by Shogakukan, included Ijime, Mob Psycho 100, 37.5°C no Namida, Blue Giant, and Jūhan Shuttai!.
[Via Manga Mag]
---