×
remind me tomorrow
remind me next week
never remind me
Subscribe to the ANN Newsletter • Wake up every Sunday to a curated list of ANN's most interesting posts of the week.
read more
News

Mob Psycho 100, More Win 62nd Shogakukan Manga Awards

posted on by Karen Ressler
---
The judging committee of the 62nd Shogakukan Manga Awards announced this year's winners on Monday. Each winning title will be honored with a bronze statuette and a prize of 1 million yen (about US$8,800). Shogakukan itself publishes all five winners.
Best Children's Manga

Ijime
Kaoru Igarashi
Serialized in
Ciao DX
(Shogakukan)
Igarashi launched the manga series with
Ijime - Hitoribocchi no Tatakai
(Childhood Bullying: The Lonely Fight) in 2007 to deal with childhood bullying (Ijime). The series
inspired
an
original anime DVD
in 2012.
Best Shōnen Manga

Mob Psycho 100
ONE
Serialized on
Ura Sunday
(Shogakukan)
The story revolves around "Mob," a boy who will explode if his emotional capacity reaches 100%. This boy with psychic powers earned his nickname "Mob" because he does not stand out among other people. He keeps his psychic powers bottled up so he can live normally, but if his emotional level reaches 100, something will overwhelm his entire body.
The manga creator ONE (One-Punch Man) launched the Mob Psycho 100 series on Ura Sunday in 2012 and later in Shogakukan's Manga ONE app in 2014. The manga inspired a television anime last summer.

Best Shōjo Manga

37.5°C no Namida (37.5°C Tears)
Chika Shiina
Serialized in
Cheese!
(Shogakukan)
The manga centers around Momoko, a novice sick day care provider. She takes care of children too sick for their parents to leave in a normal nursery, but nevertheless have to go to work. Although she is an unsociable woman famous for never laughing, Momoko always prioritizes the smiles of the children.
Shiina (Seifuku no Dilemma, Sensei, Sotsugyō) launched the manga in Cheese! magazine in December 2013 and ended its first serialization run in November 2014. The manga resumed in May 2015 and inspired a live-action drama that summer.

Best General Manga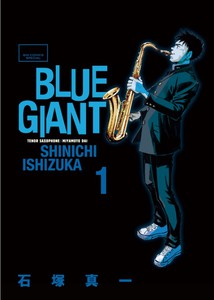 Blue Giant
Shinichi Ishizuka
Serialized in
Big Comic
(Shogakukan)
The manga centers on Dai Miyamoto, who is in the basketball club in middle school. One day, his friend takes him to a live jazz performance, which touches him on a deep level. From that point on, he begins to practice the tenor sax by himself, with no formal education, and no ability to read sheet music. He aims to become the world's best saxophone player.
Ishizuka (Gaku) launched the manga in Big Comic in May 2013. Ishizuka ended the series in August, but started the Blue Giant Supreme sequel series in September. The manga was nominated for the eighth and ninth Manga Taisho Awards.

Best General Manga

Jūhan Shuttai!
(Second Print Run Confirmed!)
Naoko Matsuda
Serialized in Monthly
Big Comic Spirits
(Shogakukan)
The manga focuses on the people involved in a manga magazine named "Vibes": creators who publish their manga, editors, salespeople, advertisers, plate-makers, printers, designers, distributors, and booksellers. The manga follows the workers who are involved in each stage of a manga's production that will influence how it will sell, until the final product is delivered to the consumer.
Matsuda launched the manga in Shogakukan's Monthly Spirits magazine in 2012. The manga was nominated for the 18th Annual Tezuka Osamu Cultural Prize "Reader Award" in 2014, and it inspired a live-action television series in April.

In addition, late manga creator Kenichirō Takai received the Jury's Special Award.
Shogakukan has been awarding this prize since 1956 (for works published in 1955). Recent winners have included Yumi Hotta and Takeshi Obata's Hikaru no Go (2000), Rumiko Takahashi's Inuyasha (2002), Naoki Urasawa's 20th Century Boys (2003), Mine Yoshizaki's Keroro Gunsō (2005), Kotomi Aoki's Boku no Hatsukoi o Kimi ni Sasagu (2008), Kanoko Sakurakoji's Black Bird (2009), Kenta Shinohara's Sket Dance (2010), Chūya Koyama's Space Brothers (2011), Yūki Kodama's Kids on the Slope (2012), Hiromu Arakawa's Silver Spoon (2013), Shinobu Ohtaka's Magi (2014), and Noriyuki Konishi's Yōkai Watch (2015).
2016's winners were Usotsuki! Gokuō-kun, Haikyu!!, My Love Story!!, Sunny, and Umimachi Diary.
This year's judging committee included Kiyoko Arai (Beauty Pop), author Mitsuyo Kakuta, Eiji Kazama, Kaiji Kawaguchi, Kenshi Hirokane, Fujihiko Hosono, and columnist Bourbon Kobayashi.
---